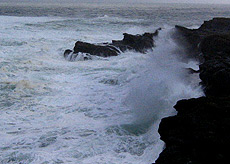 S
neaker Waves Mar Oregon Coast Stormwatching Experience
By Tiffany Boothe, Seaside Aquarium
(Oregon Coast) - Now that the surf has picked up and winter storms loom on the horizon, it is time to remember beach safety. Many people flock to the coast to view these magnificent storms, but some are unaware of the danger.
Sneaker waves are common and often catch people off guard while standing onshore. You can't see them and they are impossible to predict. These occur when smaller waves pile up on top each other to form one large wave – sometimes twice as large as the previous sets. Also, they can carry large pieces of debris with them such as logs, which present a whole set of other dangers.
Sneaker waves are a universal coastal phenomenon, although they are known to be more common in some areas than others. In the United States, northern California, Oregon and Washington are particularly affected. They can occur at anytime, even if it is calm and the surf is small.
There were a couple of incidences last winter where people were injured or swept out to sea by sneaker waves. That includes a pair of women at Gleneden Beach, near Lincoln City, whose bodies were never found after a walk on a stormy beach ended in tragedy.
Even cars were damaged in recent years. At the cove in Seaside, during large storms when the surf is huge, enormous sneaker waves have come up into the parking lot, abruptly and without notice, littering it with large cove rocks and debris which have dented cars in the past.
Safety during the most spectacular of storms is always a big concern, according to Newport beach expert Guy DiTorrice. He referenced various folks who had to be rescued on the beaches or in the water in the winter of 2005, including a pair of teens who disappeared from a central coast beach in the early part of this century. "Just remember: keep your butts well above the surf zone," DiTorrice said. "Had at least one novice surfer discover how these waves can take a person offshore just as quickly as it moves one near shore."
Dangerous conditions can be a bit hard to spot sometimes as well, calling for further vigilance.
"Exercise extreme caution on the beach between storms," he added. "Skies might be cleared up and the tide table predicts low tide, but offshore conditions and ongoing nightly winds are building surf conditions that are limiting bar access on most rivers and not providing much room for safe beachcombing."
Have your beach access available to you at all times. A big wave can come right up to a seawall, leaving you no path for safety, getting you cold, wet and possibly swimming when you don't want to do any of the three.
Stay on accessible high ground when storm-agitated surf is on the beach. Oregon State Parks maintains dozens of safe roadside parks and campground access points right along Highway 101 where you can get great photos of dramatic winter surf without endangering yourself.
Tall cliffs or high vantage points may give you a seriously faulty, bad sense of security. As engaging as they are – and tempting because you're away from the tidal madness - they pose even more danger in wet, stormy weather. Stay clear of coastal bluffs. They can collapse and cause injury.
If, for some reason, you're on a beach during stormy weather, never turn your back to the ocean. You may be swept off coastal bluffs or tide pool areas and into the water by waves that can come without warning. This is also quite true of normal weather.
Do not climb up onto logs on the beach. While they look heavy and sturdy when climbing on them, the smallest wave will roll it over you or a child. Killer logs are real. It only takes an inch of water to move a log several hundred pounds.
Be aware of sneaker waves, even on the calmest days. Don't turn your back on the ocean and keep your eye on the surf. Avoid "Killer Surf."
Dress for the weather. Layer your clothes to provide you warmth and comfort. And carry along your rain gear to keep you dry when it does drizzle.
Some other friendly reminders:
- Learn to swim.
- Never swim alone.
- Supervise children closely.
- Don't rely on flotation devices, such as rafts.
- If caught in a rip current, swim sideways until free. Don't swim against the current's pull.
- Alcohol and swimming, surfing, windsurfing or boating don't mix.
- Protect your head, neck and spine. Don't dive into unfamiliar waters.
- If you are in trouble, call or wave for help.
- Follow posted regulations.
- Swim parallel to shore if you wish to swim long distances.
- Scuba dive only if trained and certified - and within the limits of your training.
- No glass containers at the beach - broken glass and bare feet don't mix.
- No beach fires except in designated areas.
. Report hazardous conditions.

Russian Oil Spill Update!
RUSSIA: Russia's Black Sea coast face an ecological catastrophe after a fierce storm broke up a tanker, disgorging several thousands of tonnes of oil on to the shore. 3 seamen are reported drowned, and about 20 missing. Spilt fuel oil killed 30,000 birds along the Russian coastline in the northern mouth of the Black Sea, near Russia's border with Ukraine. The loss of fish can hardly be evaluated. The collection of spilled oil is being conducted by about 100 workers at the coastal settlement of Ilyich, halfway between Kavkaz and Novorossiisk. The status of the ships in the area is being monitored. The sunk vessels are being inspected, and the search and rescue operation to find the missing crewmembers is under way.



PHOTOS: Black Sea's 'Environmental Disaster'
A vessel is seen after it ran aground near the settlement of Kabardinka, 19 miles southeast of Russia's Black Sea port of Novorossiisk Nov. 12, 2007. A severe storm broke a small Russian oil tanker in two off the Ukrainian port of Kerch on Sunday, spilling up to 2,000 tons of fuel oil in what a Russian official said was an "environmental disaster." The same storm in the Black Sea and Azov Sea also sank four freighters, three carrying sulphur and one with a cargo of scrap metal. The heavy seas also cracked the hull of another oil tanker, but the ship was afloat and not leaking. (Alexander Natruskin/Reuters)
The British Tidal Surge Update!
Written Ministerial Statement by Hilary Benn on the tidal surge, East Coast of England - 13 November 2007

The Secretary of State for Environment, Food and Rural Affairs (Hilary Benn)

Further to my report to the House last Thursday (8 Nov 2007 : Column 365) I would like to provide an update on the significant tidal surge which affected the coast of Eastern England last week.

On 5 November, the Met Office's storm tide forecasting service alerted us to a possible tidal surge in the North Sea later on in the week. By Thursday, it had become clear that there was a significant risk of potentially serious flooding in coastal areas of Eastern England during the next 48 hours and the Environment Agency issued a number of severe flood warnings. Police Gold Commands were established in Norfolk, Suffolk and Essex to coordinate the emergency response to any flooding, including evacuation where necessary and in line with the standing emergency arrangements, the Government's COBR committee was convened to ensure that all preparations were in place. Continue reading

Update on the Cosco Busan



The term "In Hack" is going to have a new meaning!


The Cargo Letter
for Nov. 11 2007 --
In Collision With Oakland Bay Bridge


"Human error factors" probably were involved in a ship crash and oil spill that killed nearly 400 birds in San Francisco Bay and prompted a federal criminal probe, the U.S. Coast Guard said Nov. 11. The U.S. attorney in San Francisco has opened a federal criminal investigation into the Nov. 7 crash of the
M/V Cosco Busan
to determine whether the captain & crew violated federal maritime laws.

Although not officially detained, the captain and crew were barred from leaving the vessel, which is docked for repairs in Oakland, the Coast Guard said.


In command at the time -- harbor pilot
Captain John Cota
said he could hardly feel anything on the ship -- suggesting that there wasn't much damage. The ship didn't roll. There wasn't a loud sound. Cota quickly radioed authorities over an open radio network to report the ship had "touched" the bridge, according to an official with knowledge of the investigation. "Traffic, we just touched the delta span" Capt. Cota is alleged to have said.


"You had a competently manned ship with a pilot, all the navigation and sensors," said
Admiral Thad Allen
, Commandant, U.S. Coast Guard. There were "probably some human error factors, but we need to determine the facts, because there's no reason a ship like that should have collided with the bridge."
M/V Cosco Busan
was departing
Port of Oakland
for South Korea when it struck a tower supporting the western suspension span of the Bay Bridge, cutting a 212-foot, 12-foot wide gash in the ship's side.


About 58,000 gallons of heavy-duty bunker oil poured out of the vessel as it was moored near Treasure Island. The oil sickened birds and formed globules on more than 20 of the area's beaches. It oozed along the San Francisco city waterfront and out of the bay, beneath the
Golden Gate Bridge
toward Marin County.

"Response was set into play within an hour of the event itself," Admiral Allen said Nov. 11. Regarding the initial low estimate of 140 gallons of lost oil, Allen said heavy fog and damage to the ship's tanks hindered initial aerial and on-ground evaluations of how much oil had leaked from the ship.


The
National Transportation Safety Board
is investigating the accident, and was interviewing the pilot, the ship's crew, and other pilots who were on the water at the time of the crash on Nov. 7. The 26 crew had been on its inaugural voyage on the ship, which the current owner purchased last month. The NTSB also intends to review the ship's voyage data recorder, which should have recorded captain and crew conversations on the bridge and other information in the 12 hours leading up to the bridge collision, Hersman said.


As of Nov. 10, 23 beaches in the area remained closed.
Angel Island State Park
, the Bay's largest island, reopened Nov. 11, the Coast Guard said.
Gov. Arnold Schwarzenegger
has declared a state of emergency, freeing money to clean up the spill. Seven miles of containment boom stretched across the bay has collected more than 12,271 gallons of oil so far, and another 4,000 gallons have evaporated, officials said.Nearly 400 dead birds have been recovered from the bay, while another 500 birds have been rescued alive but soaked in oil, according to Lisa Curtis, administrator of the Department of Fish and Games Office of Spill Prevention and Response.


In 1989, the oil
M/T Exxon Valdez
ran aground & fouled Alaska's
Prince William Sound
with almost 11 million gallons of crude -- the nation's worst ever oil spill. Thousands of birds & animals died in the disaster, according to the
National Oceanic and Atmospheric Administration
. Often birds and animals are threatened when they come in contact with the oil and swallow it as they try to clean themselves, said the NOAA Web site. In addition to birds, oil spills can be very harmful to fish and shellfish, NOAA said.

Twenty wildlife teams were scheduled Nov. 11 to be the bay, working to find sick birds so they can be rehabilitated, Curtis said. On Nov. 10, the state's other U.S. senator and a leading Coast Guard official decried the accident.


Rear Adm. Craig E. Bone
, the U.S. Coast Guard's director of inspection and compliance said "This incident should have never ever occurred," he said. "There's systems, there's capabilities, there's licensed operators, there's a pilot on board the vessel, there's the capacity and the capability to safely navigate through this port and waterways every day." He added, "But we have to move beyond the incident and the fact that it occurred and move forward into the response." The California Dept. of Transportation said the collision did no structural damage to the bridge and there was no interruption of bridge traffic -- more than 250,000 vehicles daily.


Cosco Dusan Oil Spill Slideshow



Talk about Pirates? Yep those Oil Spill Response Organizations (OSRO's). Hopefully the Qualified Individual for the line is keeping them honest while cleaning up!

And lastly,
Super cyclonic storm Sidr!


Super Cyclonic Storm Sidr is forecast to strike India as a severe cyclonic storm at about 16:00 GMT on 15 November. Data supplied by the US Navy and Air Force Joint Typhoon Warning Center suggest that the point of landfall will be near 20.9 N, 89.2 E. Sidr is expected to bring 1-minute maximum sustained winds to the region of around 203 km/h (126 mph). Wind gusts in the area may be considerably higher.
According to the Saffir-Simpson damage scale the potential property damage and flooding from a storm of Sidr's strength (category 3) at landfall includes:
Storm surge generally 2.7-3.7 metres (9-12 feet) above normal.

Some structural damage to small residences and utility buildings with a minor amount of curtainwall failures.

Damage to shrubbery and trees with foliage blown off trees and large trees blown down.

Mobile homes and poorly constructed signs are destroyed.

Low-lying escape routes are cut by rising water 3-5 hours before arrival of the centre of the storm.

Flooding near the coast destroys smaller structures with larger structures damaged by battering from floating debris.

Terrain continuously lower than 1.5 metres (5 feet) above mean sea level may be flooded inland 13 km (8 miles) or more.

Evacuation of low-lying residences within several blocks of the shoreline may be required.
There is also the potential for flooding further inland due to heavy rain.
The information above is provided for guidance only and should not be used to make life or death decisions or decisions relating to property. Anyone in the region who is concerned for their personal safety or property should contact their official national weather agency or warning centre for advice.
This alert is provided by Tropical Storm Risk (TSR) which is sponsored by Benfield, Royal & SunAlliance, Crawford & Company and University College London (UCL). TSR acknowledges the support of the UK Met Office.

RS