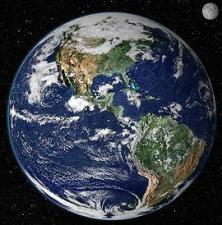 Next President Urged to Upgrade Climate Science Budget
WASHINGTON, DC, August 25, 2008 (ENS) - Eight of the top American organizations responsible for weather and climate science and education are calling on the next administration and Congress to better protect the United States from severe weather events and climate change by investing in the basics of better science.
They issued five recommendations to reverse declining budgets and provide needed tools, information, and leadership to decision makers. Topping the list is a request to fully fund the nation's Earth observing system from satellite and ground-based instruments as recommended by the National Research Council.
The plan is estimated to cost roughly $9 billion above the current federal investments being planned for 2010 through 2014.
"Given the costs of weather and climate disasters, we believe these are wise and critical investments," says John Snow, co-chair of the Weather Coalition and dean of the College of Atmospheric and Geographic Sciences at the University of Oklahoma.
The recommendations and supporting information were provided Thursday in a transition briefing document to both the presidential campaigns.
"Our concern is that our nation is not prepared for severe weather or climate change because of declining budgets and lack of attention to these threats over the past few years," says Jack Fellows, vice president of the University Corporation for Atmospheric Research, UCAR, a consortium of more than 70 universities offering doctorate degrees in the atmospheric sciences.
"We should improve our ability to respond to severe weather events and prepare for the impacts of climate change that will undoubtedly occur over the next several decade," Fellows said.
UCAR manages the National Center for Atmospheric Research and the UCAR Office of Programs to provide member institutions and affiliates with state-of-the-art instrumentation, aircraft, and computer technology to advance the study of Earth's atmosphere.
"Decision makers need information on how climate change will affect their local areas," he said, "but we are hampered by a lack of funding, observations, and computing power to provide information at this local level."
The eight organizations that wrote the document are UCAR, the American Meteorological Society, the American Geophysical Union, the Weather Coalition, the Consortium of Universities for the Advancement of Hydrologic Science, the National Association of State Universities and Land-Grant Colleges, the Consortium for Ocean Leadership, and the Alliance for Earth Observations.
Collectively they represent thousands of scientists, technology specialists, public policy analysts, and other experts.
This year the United States has been battered by a record number of tornadoes, severe floods, and wildfires.
The briefing document reminds the candidates that tornadoes are forming at a record-setting pace this year, with nearly 1,000 twisters confirmed by NOAA's Storm Prediction Center for the period January through May 2008.
And every year, the scientists point out, the country sustains billions of dollars in losses from disasters related to weather and climate, such as hurricanes, tornadoes, forest fires, floods, droughts, and snow storms.
"With more than a quarter of the U.S. gross national product - over $2 trillion - sensitive to weather and climate events, these events substantially impact our national health, safety, economy, environment, transportation systems, and military readiness," the briefing document states. "All 50 states are impacted by these events, and many of these events will be exacerbated by climate change."
The organizations say that spending more now on satellites, scientific instruments, and research will better protect Americans from the effects of global warming and the severe weather events it will bring in the future.
The five recommendations of the eight scientific organizations are:
Observations. Fully fund the nation's Earth observing system from satellite and ground-based instruments as recommended by the National Research Council.

Computing. Greatly increase computing power available for weather and climate research, predictions, and related applications.

Research and Modeling. Support a broad fundamental and applied research program in Earth sciences and related fields to advance present understanding of weather and climate and their impacts on society.

Societal Relevance. Support education, training, and communication efforts to use the observations, models, and application tools for the maximum benefit to society.

Leadership and Management. Implement effective leadership, management, and evaluation approaches to ensure these investments are done in the best interest of the nation.
The full transition document, "Making Our Nation Resilient to Severe Weather and Climate Change," can be found at
www.ucar.edu/td
. It provides detailed implementation guidance, including specific management actions, budget estimates, and recommendations for nominations of leaders to serve in the next administration.
WEATHER NOTE

USA Today: Tornadoes on record-setting pace in US
It's looking more and more like this year is a bad one for tornadoes in the US. A good update was filed this week at USA Today by Doyle Rice. He got hold of data from the National Weather Service showing 1,390 tornadoes through July, a record pace that has not let up since. Numbers aren't all fully vetted, but it looks like at least 300 more have swept tornado alley and other twister-prone regions. October and November historically provide a second flurry, after the main, spring season.
His story gets into how the stats are gathered, including suggestions that better equipment these days is seeing tornadoes that previously would have gone unrecorded. It has, unfortunately, little hint of a reason that this particular year stands out so much. One would like to know if storm tracks, Hadley cells, convective and convergent phenomena, or something else is off from the norm this year. His last line does give a nod to climate change and warming as theoretical reasons for a rising trend line, but why this year should be so sharp a departure looks to be a mystery, maybe.
MARTIME NOTE
Final bits of Riverdance ferry to be cleared off Cleveleys beach
The last piece of the Riverdance ferry is set to be removed from the Fylde coastline in the next two to three weeks.
All visible signs of the vessel have been removed by demolition experts, but a large final piece remains buried under the sand.
The last piece of the ferry is around 50ft by 30ft, weighing 40 to 50 tonnes and is buried as deep as four or five metres in the sand.
Hugh Shaw, the Secretary of State's Representative for Maritime Salvage and Intervention, said: "It won't be an easy job to remove the final piece of the ship.
"The operation should take around seven days but that will be spread over a few weeks, as contractors can only work when the tide is out, and even then strong winds can blow water back in.
"The job has taken longer than expected, but the most important aspect was to get it done properly and contractors have been very conscientious in their work."
Mr Shaw said work had slowed down in recent weeks as workers battled with worsening weather conditions.
After removing the final piece of the vessel, contractors will use sonar scanning machines to scan the beach for any stray debris, a job that is likely to take only one or two days.
Gordon Whitaker, from the Environment Agency and chair of the Riverdance's environment group, said: "We are very pleased with the work that has taken place and the effort that has been put in to keep the area clean.
"It is an important area for many types of wildlife so we are delighted the way the operation has been run, and we don't envisage any environmental problems from here on in."
The Riverdance ran aground just south of Cleveleys on January 31 after getting into difficulties while travelling between Northern Ireland and Heysham.
RS