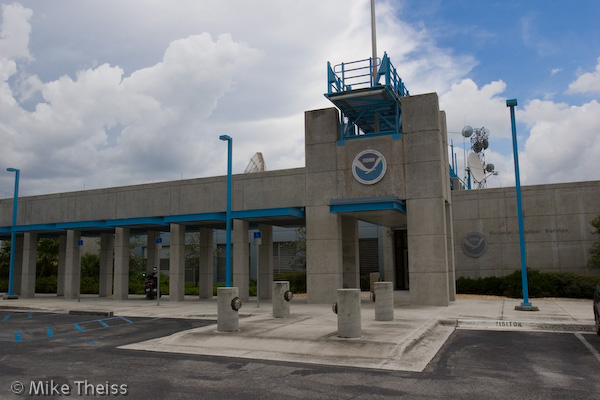 Hurricane Center says better forecasts could cost millions

MIAMI (AP) — Substantially improving the accuracy of hurricane intensity predictions could take years and tens of millions of dollars, the National Hurricane Center's director said Tuesday.
In an interview with The Associated Press, Bill Read said reducing by half the errors made in tasks such as determining whether a storm would remain a Category 1 or grow stronger would be a costly and long-term effort.
Predicting a storm's intensity is much harder for meteorologists than estimating where it will go. Since 1990, forecasters have reduced by more than half their errors in predicting a storm's path, but over the same time the accuracy of their intensity forecasts has remained virtually unchanged.
"To really get after that you're talking tens of millions of dollars, if not more, to reach an ambitious goal," Read said. "We've made a steady gain in the improvement of the track forecasts, and we haven't figured out how to do that yet for rapid intensification."
That could take between five and 10 years, he said.
Read said he's satisfied for now with the $3 million the government is spending this year for research into improving intensity forecasts. Long-term improvement, however, would require a sustained investment.
Read took the helm of the National Hurricane Center in January. The six-month Atlantic hurricane season which officially began June 1 is his first as director. The center monitors the movement and strength of tropical weather systems and issues storm watches and warnings for the U.S. and surrounding areas.
Read said he expects to spend a lot of time talking about preparing for storms, as other directors have. He said it's denial, not complacency, that keeps many people from being prepared. They just don't think a storm will hit, and that's what emergency managers and others have to overcome, he said.
Read also talked about the sensitive issue of a suggested link between global warming and hurricanes, acknowledging it carries "so much emotional baggage" it can be "really hard to sift out the science."
Read said he agreed with others at the National Oceanic and Atmospheric Administration and that the link between global warming and hurricanes "is still to be determined." While people who model climate largely believe "global warming is real and it's going to get worse," Read said, there is much more disagreement about the effect of warming on tropical storms and whether the number and intensity of storms will be affected.
"All of that comes out as different numbers. I think there are a lot of unresolved issues in the science," Read said.
WEATHER NOTE
Hurricane shelter lacks in Lee County, officials say

• Click here to download the 2008 Hurricane Guide

By MARY WOZNIAK
mwozniak@news-press.com
Lee County is far short of the hurricane shelter space it needs to house residents at risk during a Category 3 hurricane and the problem will not be remedied anytime soon because of cost, county officials say.

County statistics show hurricane shelters are 47,000 spaces short of what the county needs to protect residents in a Category 3 storm, said John Wilson, Lee County director of public safety. A Category 3 storm packs winds of 111 to 130 mph, with storm surge — a continual rise of water that is pushed ashore — generally 9 to 12 feet above normal.

Besides a lack of money to retrofit existing buildings as shelters, there is a lack of places to turn into shelters that are outside of the county's storm surge area, Wilson said.

The deficiency is even worse in the case of a severe Category 4 or 5 hurricane smashing into Lee County, a state evaluation of county hurricane shelters shows. A Category 4 storm has winds of 131 to 155 mph and surge generally 13 to 18 feet above normal; Category 5 is winds greater than 155 mph and surge generally greater than 18 feet above normal.

The county lacks 96,779 spaces and is 1.8 million square feet short of what it needs in those severe storms, the 2008 study by the state Division of Emergency Management concludes.

But even if the county is already lacking in space at the Category 3 level, there is no way the county can meet the state's higher standard, Wilson said.
"We can't afford the state standard," Wilson said. "It's just not a realistic standard."

The Category 3 standard has proved to be adequate, Wilson said. Is it reasonable to spend money to address the shelter deficit at a Category 4 or 5 need, "or is it more reasonable to look at the storm situation that will most likely occur?" he asked.

A Category 3 is more likely than a Category 4 or 5, as defined by storm surge models, Wilson said.

Charley, a Category 4 hurricane, clobbered Lee and Charlotte counties on Aug. 13, 2004. But the county's Category 3 shelter standard was sufficient because the storm surge expected with Charley did not materialize, Wilson said.

The state's regulations are mandated by law for shelters that received designation since 1995, said Blair Heusdens, a spokeswoman for the Division of Emergency Management.

But the regulations can be waived under unique circumstances if a county requests it and the state agrees, she said in e-mails responding to questions.

Lee County was granted such a waiver in the early 1990s, Wilson said.

"We have a high area at risk. We have very little interior area to support us. We have high evacuation times," Wilson said.

Little infrastructure is available inland to turn into hurricane shelters and much of the space is in the Density Reduction/Groundwater Resource area in southeast Lee County, a natural storage area for the county's water supply.

"The state recognizes that Lee County faces unique challenges in sheltering because of the geography and population of the county," Heusdens wrote. Local officials will use the best options they can find to meet residents' needs, she wrote.

In this case, it's the best cost option.

Wilson said it costs $250 to $285 per square foot to retrofit a building just to meet Category 3 standards.

Using the minimum $250 number and multiplying it by the 1.8 million square feet the state says Lee County is deficient, the county would have to ante up $471 million to meet the need. And that's in a struggling economy.

"It's an impressive number," Wilson said. "Is it appropriate to shoot for and use taxpayers' money?"

In the meantime, the county has earmarked $1 million for hurricane shelters in the 2007-2008 capital improvement plan. The largest amount the county has spent for shelters in the four years since Hurricane Charley is $3 million in 2006-2007.

"I'm surprised it's that much because of the property tax," Lee County Commissioner Bob Janes said of the $1 million figure. "The tax income really constrains us from doing a lot of that stuff. It's just a problem, but it's terribly difficult to find a way to eliminate it."

The county has been working with area schools to retrofit them as shelters, Janes said. "But when you live in the flood plain, it's terribly difficult to find buildings. If you just build a building for a hurricane shelter, what are you going to use it for the rest of the time?"

The county uses the same square footage as the state does to calculate the amount
of space needed to house a person in a hurricane shelter — 20 square feet.

"So far we have been able to shelter anyone who needed a place," Wilson said.

"Whether we can do that in the future, we don't know."

As the county tries to catch up in providing space, the population keeps increasing, he said.

The lack of space is worrisome, as is the fact that the vast majority of people don't use existing shelters, said John Cain, disaster coordinator for the Lee County Chapter of the American Red Cross.

"I don't know how to balance that," Cain said. "We'll always be there, the Red Cross, to help out before, during and after, but certainly if people are not offered sufficient shelter it's a big concern."

The county's current goal is to provide enough shelters in a Category 3 hurricane for 21 percent of the population at risk, Wilson said. That is the number of residents who say they would evacuate to a shelter in a hurricane, according to a 1990s study.

"We are hard-pressed to meet the standards at 21 percent," Wilson said.

The county is considering dropping that number to 10 percent in a revision of the county's comprehensive plan, while at the same time raising the category standard from 3 to 5, Wilson said. The 10 percent is the number of people who actually used shelters during hurricanes Charley and Wilma, he said.

That plan revision would be subject to public hearings, probably in the fall, he said.
But a new summary of a study of public response to Hurricane Wilma shows that many people may have not heard officials' orders to evacuate and they remain in the dark about the damage a severe hurricane can cause.

In Wilma:
• Only 7 percent of those who evacuated went to a public shelter.

• Those who didn't evacuate based their decision on the severity of the storm or its track, given their home's location, and the absence of advice or orders from public officials.

• Only half the residents in mobile homes thought their homes would flood in a Category 4 hurricane.

"It is a question of what can a taxpayer afford to spend for safety," Wilson said. "We made the decision. Is it a good one?
UK Chasers have a near miss!




MARINE NOTE

'BAD FOR BUSINESS' : Shipowners buck new sailing guidelines during storms
The Philippine Coast Guard's new, more stringent guidelines for ships sailing during storms could be tested soon if the prevailing tropical depression turns into a typhoon.
Ship owners and operators, however, have voiced their opposition to the rules, claiming these would be detrimental to passengers and business.
The interim guidelines prohibit a vessel from leaving port when Storm Signal No. 1 has been raised at its port of origin, along its route or at its port of destination.
The interim rules were issued after the sinking of the MV Princess of the Stars off Sibuyan Island in Romblon province at the height of Typhoon "Frank" (international codename: Fengshen) on June 21 while the ship was en route to Cebu with over 800 passengers and crew on board.
Passengers still missing
Majority of the passengers remain missing and are presumed to have gone down with the ship owned by Sulpicio Lines. Only 57 persons have survived the ferry sinking.
Yesterday, the PCG reminded ship owners and operators about the new guidelines which go into effect once the weather bureau—the Philippine Atmospheric, Geophysical and Astronomical Services Administration (PAGASA)—has raised a storm signal.
"If a signal is raised, it would be the first time the guidelines would be tested," said PCG spokesperson Lt. Commander Armand Balilo.
Balilo said the guidelines would be followed until new ones are issued.
Vessels at sea
Under the guidelines, vessels already at sea must seek shelter immediately when Signal No. 1 is raised in its vicinity, along its intended route or at its destination.
Vessels would only be allowed to leave a port to seek shelter elsewhere if they have no passengers or cargo.
"Responsibility and discretion on how to seek shelter and ensure the safety of the ship is left to the ship owner and master of the vessel," the PCG said.
But ship owners have contested the new rules, saying they would result in passengers being stranded, businesses suffering delays and income being lost if they were implemented.
Instead, the Philippine Interisland Shipping Association (PISA) proposed the guidelines be modified to leave to the owners' discretion the decision to allow their vessels to sail when Signal No. 1 has been raised at the port of origin, along the route or destination, and if the probability of the storm signal being raised further was nil.
PISA also proposed the old guidelines be changed to allow vessels with 2,000 gross tons and under to sail and take shelter at Signal No. 2 if it is carrying no passengers but only cargo.
16 to 20 typhoons
PISA said between 16 and 20 typhoons hit the country a year with each lingering three to five days. The new guidelines would mean no ships could sail at least 50, possibly 100, days a year, it said.
It pointed out the shipping industry transports some 47 million passengers and moves 73 million metric tons of cargo a year, numbers that would be adversely affected under the interim guidelines.
Explosion Sinks Boat In Anne Arundel County
EDGEWATER -- A 35-foot boat exploded outside the Selby Bay Yacht Club in Edgewater.
A fire spokesperson said the boat was having mechanical problems and when the boat was put in neutral, it exploded.Elizabeth Spencer of Alexander, Va., was thrown into the water after the explosion and was taken to a nearby hospital. The spokesperson said that her injuries are minor.The boat burned and eventually sunk in 17 feet of water.
RS