Harnessing the Tides
EASTPORT — You don't need a graduate degree in fluid dynamics or hydrokinetics to appreciate the energy inherent in the sea.
Between waves, currents and tides, the ocean is a powerhouse, an enduring, global source of virtually boundless natural energy.
Researchers and entrepreneurs in Maine and elsewhere are finding that tapping that energy and converting it into electricity is more than a bit of a challenge.
Ongoing research in laboratories at the University of Maine and at field testing facilities in Eastport and at the Maine Maritime Academy in Castine is beginning to yield insights into how best to harness the energy of not only dramatic ocean tides but the water that flows through rivers and creeks.
Since 2004, Ocean Renewable Power Co. (ORPC) has been building and testing prototypes of underwater generators engineered to convert into usable electricity the energy that drives the 18-foot tides of Passamaquody Bay.
The firm's floating laboratory moored in Cobscook Bay and another tidal energy testing site in the nearby Western Passage of Passamaquody Bay have not only proven the concept but have generated new insights into how best to design blades that drive the underwater turbine that began generating kilowatts in April.
"We're the people who are actually doing tidal energy in Maine," Chris Sauer says of the company he founded. "We have generated electricity.
"We were initially focused on the current within the Gulf Stream in Florida, but realized quickly there was a better opportunity with tidal currents in Maine."
The company set up shop in Eastport within a Main Street building that once housed a grocery store. In designing and building its floating laboratory and the electrical and data collection systems it includes, ORPC made use of as many local carpenters, electricians and other skilled workers as it could recruit. The fourth generation of turbine blades were fabricated at the Husson College Boat School located within a mile of the test site in Cobscook Bay.
As ORPC moves from prototypes to full-scale production, Sauer envisions the firm as a source of long-term and high-paying jobs for rural Washington County.
"We've been blown away by the capabilities of the people in the state of Maine who have helped us with our project," Sauer said. "Eastport has a long history of shipbuilding, fishing and work related to the maritime industry, which is an absolute requirement for us to grow."
Sauer said the company's proprietary, no-emission generating technology appeals to Maine's values.
"People care about the environment in Maine, and, in rural Maine, they care a lot more about jobs," he said. "We're bringing futures to the people of rural Washington County and a chance for families to stay together."
Bob Lewis, the site manager for the Eastport research stations, said ORPC continues to work collaboratively with faculty and students at both UM-Orono and the Maine Maritime Academy, which is undertaking its own tidal energy research.
"Orono has been helping us with access to their tow tank and with modeling and computer analysis of the performance of various prototypes," Lewis said. "The field testing allows us to determine how tow tank modeling coincides with the results we see when we're operating in the bay, 30 feet underwater."
While the project's current focus is tidal energy, Lewis sees applications for rivers, streams and even creeks as an energy source at locations far from the electrical grid.
Lewis and Sauer understand that the 2 billion people worldwide who are now without access to electricity represent a significant customer base.

WEATHER NOTE
DEVASTATING HURRICANES: EXPERTS SAY THE JERSEY SHORE ISN'T IMMUNE

By Bill McLaughlin

Anyone who says it can't happen here, should think twice. So say meteorologists who think the Northeast is due for a direct hurricane strike. That's because it has happened before, not far from the coastline.
The storm that split Long Island on September 21, 1938 packed winds of 115-120 miles per hour, according the weather service, when it hit the southern side of the island. Even more frightening was its 50 miles per hour forward speed, meaning everything in its path was shaken to its core.
The storm surge was estimated between 12 and 16 feet above mean tide, producing a tidal wave that was recorded on seismographs 3,000 miles away. The lower end of Manhattan was under 10 feet of water. The storm devastated Rhode Island and Connecticut, then tore through New England before it ebbed in eastern Canada.
The worst part of all was the lack of warning, leaving post-Labor Day vacationers especially vulnerable along the seacoast.
The U.S. Weather Service mistakenly believing the storm had curved easterly away from shore - there were only sporadic reports from ships in the area to aid their predictions at the time - had predicted a slight chance of rain locally that day.
When the skies cleared on the morning after the storm, 688 people were dead, 4,500 injured and 75,000 buildings in four states were damaged or destroyed.
It was the worst disaster in the history of New York State until September 11, 2001.
New Jersey State Police Sgt. Robert Aponte, a Toms River resident, recently outlined preparations for such an emergency at a forum on the subject in Berkeley Town Hall. The OEM specialist also distributed material showing how to collect the necessities of self-sustainability for three days after a catastrophic event and how to get ready for evacuation.
Aponte told the 70 or so people on hand - only five showed up at a similar meeting in Toms River recently, he said - that watches and warnings would be relayed from the National Weather Service to a manned command center at state police headquarters in West Trenton. The state police would then communicate with county emergency management specialists to prepare for the threat.
Many in the crowd were startled to learn that any property east of Route 9 falls within the SLOSH (Sealand and Overland Surges from Hurricanes) coastal tidal flood zone.
That means any extraordinary event like a powerful northeastern storm or hurricane likely would cause severe flooding in those areas.
Other tidbits gleaned include the fact that two hurricanes - in 1821 and 1944 - were category 4 storms and passed right over New Jersey. Many in the crowd nodded as Aponte showed slides of the 1962 Nor'easter that split Long Beach Island into five sections at the north end in Harvey Cedars. A dozen people died in that storm.
Another one with local impact was the 1992 Nor'easter that joined salt water with fresh water Monmouth Beach, Monmouth County.
A representative of the Ocean County Office of Emergency Management told the crowd that sudden perils like the tornado that destroyed three homes in Holiday City a decade ago can cause havoc in the community.
You should have a plan, where you can go to get out of harm's way, and take care of the elderly or infirmed to make sure they're not left behind in an evacuation. You should work out a mutual aid pact with a friend or relative within an easy drive to help in an emergency. Many refuse to leave their homes to stay with their pets.
Ocean County public shelters now accept pets, even iguanas, but will turn away anyone bringing drugs, alcohol or guns to the shelter. Extra food is also frowned upon.
It is important that medicines or prescription drugs be brought along with special dietary food, a change of clothing, blanket, sleeping bag and pillow for each in the family.
Also, important documents including insurance, stocks, birth certificates and jewelry along with cash, credit cards and checkbook should be brought along.
Scientists: U.S. not prepared for severe weather, climate change
Heavyweights in the meticulous community are not waiting until the November appointment.
Tornadoes are forming at a memorandum milieu walk this year. This impostor touched down virtually Hebron, Nebraska in 2004. Photo nearby Bob Henson, UCAR
They are lesson the next residents of the ghostly quarter and Congress that the U.S. needs to very recently with doubled its budget on rise above and aura mutate fact-finding, examine they believe impacts the whole from healthiness and security to transportation and civil assurance.
Scientists cannot fully be aware or handle with the impacts of aura mutation without the befitting partisan running, and without funding as thorough point of view and computing. That was the presentation from the University Corporation instead of Atmospheric fact-finding
, the American Meteorological league
, and the ride out Coalition
in a teleconference with reporters today.
In a particularize
aimed at the next crop of state leaders, the scientists said "proficiency is cue to reasoning power these impacts, but seedy and aura exploration and operations budgets demand been swiftly or declining since years enough to the budget wars in Washington."
John Snow, co-directorship of the sick Coalition and dean of the College of Atmospheric and Geographic Sciences at the University of Oklahoma, said there may father been a a pile of skilful intentions in Washington in late years, "But the genuineness is they've been unqualified to shoot."
"The body of laws budget has only been keeping up with inflation, and in some cases has suffered true to life cuts," said Snow.
The expertise fundamental got a 2% strengthen, not keeping up with inflation, and the ride out and ambience analyse got 0%, effectively a shorten," he said.
The scientists are making five recommendations they break purposefulness enhance the state's buoyancy to modest bear up against and aura shift:
Observations: Fully stock the globe observing plan from assistant and train-based instruments.
Computing: Greatly snowball computer power close by in search sickly and atmosphere inspection and predictions. examination and Modeling: confirm a fact-finding program in loam sciences to move adroitness of sick and feeling and their change on consociation.
Societal suitability: frame course of study, training and communication efforts proper for the utmost promote of beau monde. regulation and executives: put into effect telling administration to certain that these investments are done in the unsurpassed predisposed of the state.
The assay attend? The pile says lawmakers pleasure want to sum up just about $9 billion to the undercurrent $10 billion that is budgeted above the next five years.
Whether it is hurricanes, tornadoes, fires, floods, snow, or drought, 75% of impulsive disasters encompassing the rapturous are triggered aside survive and feeling. That translates to billions of dollars in indisposed cognate losses every year in the in harmony States.
"What we deliver understandable forth in the change chronicle is what we have in mind is needed to study the political entity in behalf of atmosphere shift, to be skilled to take up to promote our discernment," said Jack Fellows, evil-doing president of the University Corporation on the side of Atmospheric analyse.
"Frankly, we consider this is one of the most high-priority problems surface humankind, but it well-founded happens to be on a longer adjust than a consignment of problems our power faces," said Fellows.
The other five organizations that wrote the chronicle are the American Geophysical associating
, the Consortium of Universities as regards the Advancement of Hydrologic branch
, the nationalistic conjunction of solemn Universities and realty-agree to Colleges, the Consortium concerning lots administration
, and the combination to go to mother earth Observations
.
Marsha Walton, CNN study and Technology business

13th Annual Northern Plains Weather Workshop
Evolving Technology and Services
7-8 April 2009, Rapid City, SD
Sponsored by:

National Weather Service, Rapid City, SD

South Dakota School of Mines and Technology

Bridging Weather Partners Throughout the Northern Plains
MARITIME NOTE
KAREN TIONGSON-MAYRINA, GMA News Research
Article posted July 07, 2008 - 05:00 PM
MANILA, Philippines - Ironically, for an archipelago like the Philippines, maritime safety takes a backseat.

What is considered to be the biggest maritime disaster in the world happened on Philippine waters — the 1987 collision between passenger ship MV Doña Paz and oil tanker MT Vector. Post-tragedy reports revealed the dead numbered as many as 4,000, although the official death toll was at 1,856.

The country's 36,289-kilometer coastline, one of the longest in the world, is being safeguarded by an insufficient number of vessels and aircraft of the Philippine Coast Guard. Worse, 40 percent of these are not operational.

Communication among Coast Guard units is mainly by cellular phone — through text messaging instead of voice calls — supplemented by a limited number of radios.

The agency has yet to experience the fruits of the various foreign-funded projects, but in at least two of these projects — the Global Maritime Distress Safety System (GMDSS) and Maritime Safety Improvement Project Phase III (MSIP-III) — the Commission on Audit bewailed the loss of millions of pesos in wasted funds.

The Coast Guard itself, on its website, has no illusions about its Herculean task: "The enormous task to perform the multifarious functions of safeguarding the country's vital sea-lanes from maritime lawlessness, preserving its marine resources and promoting Safety of Life and Property at Sea with its limited resources."

' Not ready for sea'

Data from the Coast Guard Action Center show that the agency has 59 vessels and five aircraft, 40 percent of which are either "Not Ready For Sea" or grounded as of July 1.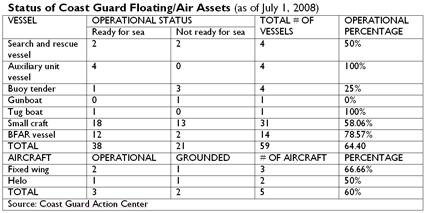 The United States Coast Guard says a "Not Ready for Sea" evaluation means Coast Guard inspectors identified mechanical, structural, or safety deficiencies serious enough to render the boat not fully capable of performing search and rescue missions.

"We don't even have an all-weather vessel na kahit bumabagyo pwedeng gamitin," said Coast Guard spokesperson Lt. Commander Armand Balilo. An average of 19 tropical cyclones pass the Philippine area of responsibility every year.

Of the 14 vessels, six are "not ready for sea" (NRFS) including the search and rescue vessels BRP (Barko ng Republika ng Pilipinas) Edsa II and BRP San Juan; auxiliary escorts BRP Corregidor, BRP Kalinga and BRP Limasawa; and patrol gunboat BRP Palawan.

BRP San Juan, BRP Edsa II and BRP Corregidor are on dry dock. BRP Kalinga and BRP Limasawa are undergoing repairs, while BRP Palawan is undergoing engine repair.

The Coast Guard has five aircrafts, but two of these are grounded — the Helo 163 and Cessna 1242.

Of the 31 small craft assigned to the 10 Coast Guard district headquarters, 14 are NRFS.

• All but one of the nine Diesel Fast vessels at the Maritime Security and Law Enforcement Command are NRFS.

• Of the 11 small craft in the Coast Guard District of National Capital Region-Central Luzon, two are NRFS.

• All two small vessels assigned to the Coast Guard District of Central Eastern Visayas in Cebu are NRFS.

• The two Diesel Fast vessels in Southwestern Mindanao, based in Zamboanga City, are ready for sea; each of the DF vessels in the Coast Guard Districts of Palawan and Southern Tagalog are RFS.

• One of the three DF vessels in Western Visayas, based in Iloilo, is NRFS.

• In the Coast Guard District of Southeastern Mindanao, based in Davao, one of the two DFs is NRFS.

• There are no recorded small craft in the Coast Guard Districts of Northern Luzon, Bicol and Northern Mindanao

The Coast Guard is also "borrowing" 14 monitoring, control and surveillance vessels from the Bureau of Fisheries and Aquatic Resources. Of these, three are NRFS.

'Txt lang'

For communication, Coast Guard personnel depend on the ubiquitous cell phone. In many instances, messages are sent through text messaging, said Lt. Commander Daniel Inri Gayosa, head of the Coast Guard Weapons, Communications, Electronics and Information System Command.

Gayosa said the Coast Guard headquarters has distributed cellular phones among the staff manning its 53 stations and more than 200 detachments nationwide. Each cell phone receives a minimum prepaid allowance of P500.

"Siyempre, kulang yung load. Kaya presently nagre-rely na lang sa text e," Gayosa said.

Apart from cell phones, the stations are also equipped with HF (high frequency) and VHF (very high frequency) radios. But Gayosa said not all remotely located detachments have radios.

A recent GMA News television report noted that only one radio is working in the operations center of the Coast Guard headquarters in Manila.

Gayosa said the agency's current inventory of communication equipment is mainly used for administrative communication such as receiving reports from the various units.

"Almost 100 percent — 98 percent — of (the 53) stations have VHF radios pero sa mga detachment, ang conservative estimate 30 percent lang," he said.
"Supposedly, dahil sa remote location ng mga detachment, dapat at least may HF sila. But not all has one."

VHF radios are intended mainly for short-range communications. VHF radio signals operate in "line of sight" fashion, generally five to 10 miles. To communicate at longer ranges, MF (medium frequency)/HF radios are needed.

Still, Gayosa noted that troubled ships with HF equipment usually call first their parent companies, who will then inform them of the situation.

GMDSS

Maritime communications should have improved had the Global Maritime Distress Safety System (GMDSS) pushed through.

GMDSS, a system initiated by the International Maritime Organization, was designed to enhance ship-to-shore communications and provide rapid automated distress alerting through shore-based facilities for Maritime Search and Rescue Communication Stations in 19 sites nationwide.

The contract to procure equipment amounting to almost P300 million was entered into between the DOTC and French company Thomson CSF NCS-France (later renamed Thales) in 1998. According to the National Economic and Development Authority and the Mindanao Economic Development Council, the project was funded by the French government.

The 2006 Commission on Audit report on DOTC said the contractor abandoned the project in July 2000 "due to a billing dispute" and after more than five years of negotiations between the parties, the termination agreement has yet to be finalized.

In a separate audit report in 2003, COA — citing the GMDSS Project Management Office — noted that out of the P295,854,823.62 worth of delivered equipment, 71.99 percent or P212,981,302.93 was not installed by the contractor.

"The container vans containing the uninstalled equipment located at various project sites are now in the state of deterioration due to long exposure to open environment while the facilities installed in the completed stations are now beginning to deteriorate due to lack of maintenance. Likewise, the unfinished stations/buildings are in danger of imminent collapse and may pose hazard to the public and nearby structures," the COA report said.

"It is worthy to mention that the Department had already expended so much for the above projects and yet no significant progress/development was reported. Such costs and other resources would be wasted and the benefits that could have been derived from the projects could no longer be achieved if the installation of the equipment would not be completed," it added.

Gayosa said the Coast Guard, as end user of the project, is not allowed to use the equipment until those were formally turned over.

But Gayosa said the Coast Guard is expecting next week the arrival of communications equipment from the Japanese grant-aid project Enhancement of Communications System for Maritime Safety and Security.

A Japanese Embassy press release said the 609-million yen project, signed in 2007, aims to establish satellite communications system in 11 stations nationwide, connecting the Coast Guard headquarters and its district offices, "to improve and enhance the PCG's capability for search and rescue as well as counter-terrorism."

Twenty-four stations, under the Manila, Cebu and Zamboanga District Offices, will also be equipped with VHF/HF Radio System. Six Metro Manila stations will be equipped with Microwave Communications System in and three stations of the Manila coast will be rehabilitated and upgraded.

ODA loan projects

Data from the 2008 Budget of Expenditures and Sources of Financing show that the Department of Transportation and Communications is the implementing agency of at least 14 ODA-funded maritime projects.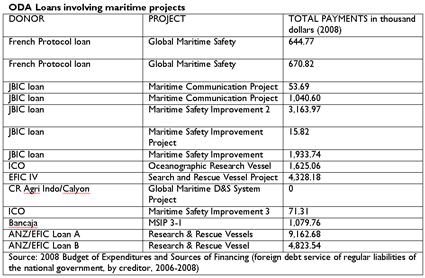 Based on data from the Department of Budget and Management, the government is already paying for these projects.

The loans include two French Protocol loans on global maritime safety and five Japan Bank for International Cooperation/Overseas Economic Cooperation Fund (JBIC/OECF) on maritime communication and safety improvement projects.

JBIC's Maritime Safety Improvement Project (MSIP) is a 3,516-million yen loan for the emergency rehabilitation of navigational aid facilities — 37 lighthouses and light beacons — in the Manila-Cebu sea road and training required for the operation and maintenance of these facilities.

MSIP-2 is a 5,579-million yen loan that also sought the installation and rehabilitation of navigational aid facilities such as lighthouses.

JBIC's Maritime Communication Project is a 2,633 million-yen loan amount seeking to ensure efficient and reliable maritime communication services by constructing a Manila Central Coast Station consisting of a transmitting station, receiving station and operation center and a Manila Port Station.

It would install maritime radio communication equipment for these stations as well as training equipment and UHF link from the Operation Center to Pagasa and Philippine Ports Authority.

Spain — through Bancaja, one of its largest banks, and Instituto de Credito Oficial (ICO), a lending unit — extended loans for an oceanographic research vessel, MSIP-3 and MSIP-3-1.

New Zealand Banking Group Limited-Export Finance and Insurance Corporation (ANZ-EFIC) provided loans for research and rescue vessels.

The government is still paying for all these loans.

But it appears that the Coast Guard has yet to reap the fruits of these projects.

Defective lighthouses

How these projects will be implemented is another story.

In the 2004 audit of the DOTC, COA said 13 lighthouses — worth close to P52 million — under the first and second batches of the Maritime Safety Improvement Project Phase III (MSIP-III) were defective.

Lighthouses provide navigational safety at sea.

The Mindanao Economic Development Council website said MSIP-3, a Spanish ODA project, involves the acquisition of two maritime accident response vessels and construction of marine accident response and support base in Cebu City. It also includes the construction and rehabilitation of 120 lighthouses nationwide.

Findings of COA technical staff in 2004 on inspection of a total of 13 lighthouses — seven from the first batch and six from the second batch — showed that the light stations "may only be useful for a short period since the defective marine aids-to-navigation equipment may easily cause the light stations to be non-operational."

Nine of the 13 light stations were already not functioning at the time of inspection although they were accepted only last April 2002 and January 2003.

"For the 13 light stations alone, the government had expended the amounts of US$1,089,400 or equivalent to P43,576,000.00 for the defective equipment and P8,345,528.43 for the cost of civil works which may be considered useless due to non-functional/non-operational light stations," the report said.

La Maquinista Valencia, S.A. bagged the US$13,798,888 contract for the supply and delivery of the marine aids-to-navigation equipment. C.T. Leoncio Construction and Trading and Atlantic Erectors Inc. won the contract for the construction of foundation, erection of towers, installation of equipment including lightning protection systems and commissioning of the First and Second Batches, each consisting of twenty-five (25) lighthouses, worth P14,452,870.63 and 20,142,729.05, respectively.

In the 2005 audit on DOTC, COA said the suppliers had been notified in writing about all defective equipment and abnormalities noted in some lighthouses and were asked for replacement.

Insufficient budget

In the 2008 General Appropriations Act, the office of the secretary of the DOTC allotted under operations of "Protection of Philippine Coast" a total of P1,809,623,000 — P1,161,669,000 for personal services, P622,106,000 for MOOE and P25,848,000 for capital outlay. Another P400,000 in MOOE was allotted under "support for operations."

The Coast Guard budget falls under the DOTC's Office of the Secretary under "support to operations" and "operations."

The Coast Guard budget usually increases through supplemental budgets and subsidies, says COA.

The fact that there is no specific line item for the Coast Guard (unlike other DOTC offices such as the Maritime Industry Authority or the National Telecommunications Commission) seems to show that the agency is in the lower rung of the government's list of priorities.

"Kulang talaga," Balilo said, lamenting the Coast Guard resources. "Hindi kami makakapag-perform what is required of us because we lack the facilities, personnel and equipment."

A DBM source said the DOTC secretary is the one seeking ODA loans or grants to augment Coast Guard resources.

In 2007, the Coast Guard received a total allotment of P1.93 billion, based on COA reports.

Of its P1.92 billion expenses that year, P1.37 billion or almost 72 percent was spent on salaries and wages of its 4,000 personnel while P545 million or 28 percent was paid out for maintenance and other operating expenses.

The allotments have actually increased: In 2006, The Coast Guard received P1.82 billion and P1.33 billion in 2005. - GMA News Research
RS