Wind Patterns Could Mask Effects Of Global Warming In Ocean

ScienceDaily (Feb. 15, 2008) — Scientists at the University of Liverpool have found that natural variability in the earth's atmosphere could be masking the overall effect of global warming in the North Atlantic Ocean.
Scientists have previously found that surface temperatures around the globe have risen over the last 30 years in accord with global warming. New data, however, shows that heat stored in the North Atlantic Ocean has a more complex pattern than initially expected, suggesting that natural changes in the atmosphere also play a role.
The Liverpool team, in collaboration with the University of Duke in the US, analysed 50 years of North Atlantic temperature records and used computer models to assess how the warming and cooling pattern was controlled. They found that the tropics and mid-latitudes have warmed, while the sub-polar regions have cooled.
Professor Ric Williams, from the University's School of Earth and Ocean Sciences, explains: "We found that changes in the heat stored in the North Atlantic corresponded to changes in natural and cyclical winds above the North Atlantic. This pattern of wind movement is called the North Atlantic Oscillation (NAO), which is linked to pressure differences in the atmosphere between Iceland and The Azores.
"The computer model we used to analyse our data helped us to predict how wind and heat exchange with the atmosphere affects the North Atlantic Ocean's heat content over time. We found that the warming over the mid latitudes was due to the wind redistributing heat, while the gain in heat in the tropics and loss in heat at high latitudes was due to an exchange of heat with the atmosphere.
"These local changes in heat storage are typically 10 times larger than any global warming trend. We now need to look at why changes are occurring in wind circulation, as this in itself could be linked to global warming effects."
Although natural variability appears to be masking global warming effects in the ocean, scientists still believe that global warming is occurring, as evident through a wide range of independent signals such as rising surface and atmospheric temperatures, reduced Arctic summer sea ice and the reduced extent of many glaciers showing changes in the environment.
The research is published in Science. This study was jointly supported by the UK Natural Environment Research Council (NERC) and the US National Science Foundation.
Adapted from materials provided by University of Liverpool, via EurekAlert!, a service of AAAS.
Total Lightning...What is it and why is it significant?
For years, information about Cloud to Ground lightning (CGs) has been available from the National Lightning Detection Network (NLDN). The NLDN network, along with the long range lightning detection network which detect CGs over a portion of the oceaninc regions is maintained by Vaisala. Other smaller companies also maintain lightning networks across the continental United States, and other parts of the globe.
However, we know from various field experiments (and human observations) that Cloud to Ground lightning strikes represent only a small portion of the complete electrical signal within a thunderstorms. In fact, cloud flashes comprise the largest percentage of the lightning spectrum in all storms.
Researches from NASA, academia, and the private sector have often longed for better methods to detect and track these cloud flashes. One such method is to develop a ground based lightning mapper which detects radiation sources emitted within the lightning channel. Networks such as these have been installed at several locations across the country by researchers at New Mexico Tech and Vaisala.
Specifically, the North Alabama Lightning Mapping Array (developed by New Mexico Tech) has been operational across the Tennessee Valley since early 2003 and provides forecasters with real-time total lightning information for forecast and warning operations. This information has proved critical in assessing the storm scale characteristics of developing thunderstorms including updraft trends and echo top growth. The ability to correlate these trends with the onset of severe weather has also proved vital to the warning and decision making process. The downside to these ground based networks are the limited range of detectability and the expenses involved in expanding an existing network or installing a new network.
With the launch of the next generation of GOES satellites beginning with GOES-R around 2014, the Geostationary Lightning Mapper (GLM) will provide total lightning information for a large area extending from New Zealand to the west coast of Africa. This will cover a large oceanic region where we now have limited information concerning convective procesess, and also provided greater detail over the severe weather rich region of the continental United States. In addition to the GLM, the GOES-R satellite (and beyond) will contain the Advanced Baseline Imager which will provide high resolution imagery (up to 500 meters in the visible spectrum) at 16 different channels. The temporal resolution will be as great as 30 seconds when the satellite is operation in mesoscale sector format.
For more information on total lightning applications or other collaborative activities ongoing between NASA, UAH, and WFO Huntsville see http://weather.msfc.nasa.gov/sport/
You can select the "Meetings" link for a view of various conferences and individual presentations.
WEATHER NOTE
Storms bring heavy downpours, 59 m.p.h. gusts
By Tom Skilling
May 3, 2008
Gusty thunderstorms raked the Chicago area in waves Friday, peppering some locations with pea-size hail while unleashing downpours so heavy in other areas that motorists were forced to the side of the road.

The 1.28 inches measured at O'Hare International Airport broke the record of 1.26 inches set in 1979 and included 0.43 inches that fell in just 7 minutes. An evening cloudburst that hit west suburban Elgin just before 7 p.m. swamped that city with 1.5 inches in only 15 minutes. Other heavy rain totals included 1.32 inches in Glenview, 1.2 inches in Lombard and 1.14 inches in Northbrook.

Powerful south winds topped 40 m.p.h. in and out of Friday's thunderstorms, and evening storm gusts were estimated at 50 m.p.h. in sections of Rockford while Weather Bug wind sensors clocked gusts of 59 m.p.h. at Marshall High School in Chicago and 56 m.p.h. gusts at Lansing Municipal Airport in southern Cook County. Storm winds toppled a 2-foot diameter tree in Kankakee.
MAYDAY STORMS 2008

From Stormer Chasers - Tony Perkins, Chris White and David Drufke
May 1st, 2008: Siouxland, IA/SD

Video of some crazy storm motions. About at the 45 second mark is the motion-iest: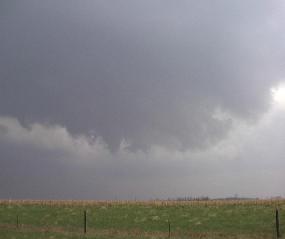 Alternative formats: WMV
Welcome to the Eastern U.S. Weather conference website. For 2008, we have selected the Hyatt Regency Crystal City at Reagan National Airport as the location for our annual conference.
You do not have to be a member of EasternUSwx.com to attend.
The conference is open to all who have a passion for weather and want to learn more about the subject.
Highlights this year include: Three to Four workshops the day before the conference presentations and a Friday night get together/reception where you will have a chance to meet folks who share similar enthusiasm for a variety of weather-related topics, mingle and browse various weather exhibitions. Please take a moment, read through the site and be sure to register for what promises to be an unforgettable weekend.
MARITIME NOTE
German band Fotos in front of The Riverdance
IT has featured in countless newspapers, been shown on TV news around the world, attracted thousands of hits on YouTube and now the stricken ferry Riverdance has become the star of a pop video.
Blackpool's latest and most unusual tourist attraction has been picked as the location for the filming of a video by up-and-coming German band Fotos to accompany their single Explosion.
t was chosen as a set by director Uwe Flade, who had seen the wreck on various websites, and filming took place on the beach at Cleveleys yesterday.
Matt Cummins, producer from London-based production company Draw Pictures, said: " The director thought Riverdance would make a good, interesting backdrop.
"The band loved it, so we made some calls to the Blackpool tourist board and they were really helpful."
Mike Chadwick, from Blackpool Tourism, said: "Blackpool has been the setting for several pop videos over the years, including Simply Red and Robbie Williams.
"It just shows as well how famous Riverdance has become – making it into the world of pop."
A spokesman for the Maritime and Coastguard Agency said there was no progress on cutting up Riverdance –which was due to start this week.
RS