Hurricanes Gustav and Ike Continue to Impact the Energy Infrastructure
Two months ago Hurricanes Gustav and Ike pounded the US Gulf Coast causing significant disruption to the nation's energy infrastructure in Louisiana and Texas. Segments of our energy infrastructure impacted include:
drilling and exploration rigs
petroleum and natural gas production platforms
offshore-to-onshore petroleum and natural gas pipelines
natural gas processing stations
onshore petroleum and natural gas pipelines
petroleum refining system
petroleum product pipelines
electricity transmission system
electricity generation
Much has been learned about restoration from the Rita and Katrina experience of 2005. Folks working in the energy sector have performed heroically towards restoring a very complex energy system to meet demand from consumers, industry and government.
So how is the restoration effort progressing? Capstone Trading Advisors is tracking the cumulative US Offshore Gulf of Mexico production losses as reported by the US Minerals Management Service. As of 30Oct08, approximately 359.7 mbbl/day of crude oil and 2.4 Bcf/day of natural gas production continues shut-in. That equates to 27% and 33% of pre-storm production capacity, respectively. Within the last two months, cumulative production losses total 48.7 million bbls of crude oil and 253 Bcf of natural gas. See the charts below.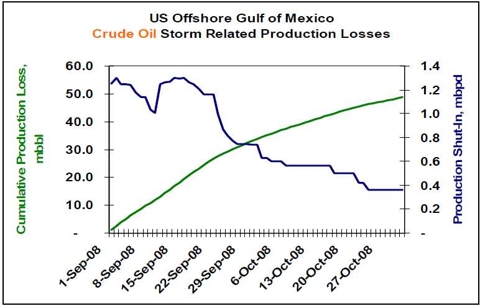 Lower petroleum product demand, and a corresponding reduction in refinery utilization, has cushioned the impact of this lost production. The key petroleum price drivers on a go-forward basis include 1) the depth of the global recession, 2) OPEC's production response to lower crude oil prices, and 3) geopolitical events.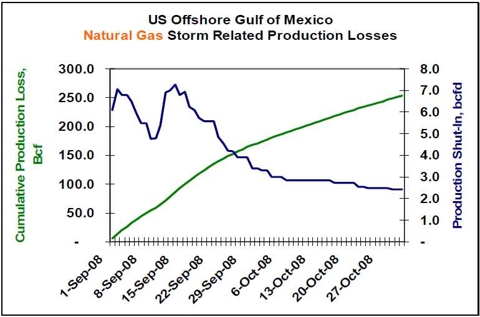 The deficit in US offshore GOM natural gas production has been made up via production from unconventional onshore sources including shale, coal bed methane and tight low-permeability formations. It is estimated that roughly 4.2 Bcf/day is being produced from these unconventional sources.
The US is expected to end the natural gas storage fill season at approximately 3.45 Tcf. The combination of storage and increased production from unconventional sources should be adequate for a normal winter season. A harsh, or early, winter could lead to significantly higher natural gas prices during the winter months. Weather is the wildcard for the natural gas market.
WEATHER NOTE
National Weather Service festival will unveil Oklahoma City Microne
NORMAN
— A network of 40 weather-observing stations in
Oklahoma City
will be unveiled Saturday during the annual National Weather Festival in Norman.
The free festival, scheduled 9 a.m. to 1 p.m. at the National Weather Center on the University of Oklahoma research campus, also will feature hourly weather balloon launches, a storm chaser car show, a children's activity area and a weather center open house.
The Oklahoma City Micronet dedication is scheduled for 10:15 a.m. The Micronet will have four Oklahoma Mesonet stations, along with 36 miniature weather stations installed on traffic signals throughout the city.
The Oklahoma Climatological Survey developed the Micronet in cooperation with OU and the city of Oklahoma City. The survey also runs the Mesonet, the system of more than 110 weather stations throughout the state.
Mesonet and Micronet stations record temperatures, wind speed and precipitation.
Past National Weather Festivals have attracted visitors from all over Oklahoma and other states.
The car show features vehicles ranging from weathered clunkers driven by amateur chasers to newer television-station vehicles with state-of-the-art technology.
Visitors also can see forecasters at work while touring the National Weather Center, said Keli Tarp, a spokeswoman for the National Oceanic and Atmospheric Administration's Weather Partners.
Nearly Half of U.S. States Fail on Emergency Plan Communication, New Study Shows
ScienceDaily (Oct. 27, 2008)
—

Seven years after Sept. 11, and in the wake of many major natural disasters such as forest fires, hurricanes and flooding, nearly half of U.S. states either have no state-level emergency plan or do not provide it readily to the public, reveals a new study by George Mason University Communication Professor Carl Botan.
Despite federal laws that require a state emergency operations plan (EOP) as a prerequisite to some federal funding, 22 states were unable to provide Botan with an EOP, withheld the plan on security grounds or made it difficult for even trained researchers to gain access. Residents of these states, Botan says, may question their state's preparedness because they are unable to find out how the highest authorities in their state coordinate responses to major disasters or how to have a say in those plans.
"While most Americans will have access to some important state-level information during emergencies, many may not. When minutes may make the difference between life and death in an emergency situation, the population should not have to waste precious time looking for answers or who to turn to," says Botan.
The study, "Using Sense-Making and Co-orientation to Rank Strategic Public Communication in State Emergency Operations Plans," graded and ranked the state emergency operations plans of the 50 U.S. states and the District of Columbia on their communication components.
Botan analyzed the accessible state EOPs for three criteria: if the plans had a two-way communication component, if they addressed the communication needs of vulnerable populations and if they treated public communication as important enough to specifically address it in the plan.
He found that the 29 jurisdictions that do have plans available make provisions for public communication-including news releases and public broadcasts, but only 16 of them make explicit or implicit provisions for two-way public communication such as community forums and focus groups. Botan feels that two-way public communication is essential in the plans, for that will allow the state to understand what its residents feel they need in emergency situations.
Of the 29 plans obtained, only two-Washington, D.C. [which is treated as a state-level entity for this purpose] and New Mexico-received a perfect score of eight for communication.
In addition, while 16 states mentioned vulnerable publics, only 13 of these discussed specific communication strategies for these vulnerable publics in their plans. For example, California mentions specific strategies such as dispatching special teams targeting vulnerable populations like the aged and the disabled, while Arizona simply mentions that emergency managers must pay attention to "special needs" people like residents of nursing homes and the hearing impaired, but does not outline specific strategies to communicate with them.
As of 1988, all states are required under the Stafford Disaster Relief and Emergency Assistance Act to have a written EOP in order to qualify for some federal funding. "Billions of tax dollars have been spent on homeland security in the last half-decade," Botan says. "It's very important that these plans are available to the public. Otherwise residents can't be confident their needs have been thought of, and aren't sure who they can count on."
The study, co-authored by George Mason University alumni Paul Penchalapadu, is to be presented at the National Communication Association annual conference in San Diego on Saturday, Nov. 22.
MARITIME NOTE
Coast Guard rescue swimmer injured during sinking sailboat rescue
PORTSMOUTH, Va.
- Coast Guard rescue crews from six different units, including three Cutters and three Air Stations, responded to a sinking sailboat with three people onboard approximately 102 miles southeast of Atlantic City N.J., Wednesday.
Rescued were Kevin Hogan, a 52-year-old and Teresa Gravie, age unknown. Phil Rubright, a 65-year-old Detroit resident was recovered but pronounced deceased by the Atlantic County Medical Examiner Office in Atlantic City.
The Coast Guard began its search after watch standers at the Rescue Coordination Center in Portsmouth received an Emergency Position Indicating Radio Beacon (EPIRB) alert and determined it was aboard the 44-foot sailing vessel FREEFALL.
After obtaining this information Coast Guard rescue crews, aboard a C-130J and MH-60 Jayhawk helicopter were launched from Coast Guard Air Station Elizabeth City, N.C.
The Elizabeth City rescue crews arrived on scene but were unable to hoist the three passengers from the FREEFALL due to the extreme weather conditions consisting of rain and 40-50 knot winds and 40-50 foot seas. The rescue crew determined that in order to conduct a safe hoist the passengers and the rescue swimmer had to enter the water. The rescue swimmer and Mr. Rubright entered the water to attempt the hoist but the rescue basket and hoist cable were damaged by a large wave.
The helicopter crew deployed a life raft and Mr. Rubright was placed in it. Reportedly another large wave hit and injured the rescue swimmer and tossed Mr. Rubright from the life raft. The injured rescue swimmer was unable to recover Mr. Rubright.
The helicopter crew employed the Emergency Recovery Device (ERD) to recover the rescue swimmer. This manual recovery device is only used during the most extreme circumstances and the person being hoisted must be trained and wear a rescue strop.
Without the means to recover Mr. Rubright the helicopter crew called for assistance and departed for Atlantic City to seek treatment for the injured rescue swimmer.
The Coast Guard then launched two MH-65 Dolphin rescue helicopter crews from Air Station Atlantic City along with a HU-25 Falcon jet and a MH-60 Jayhawk helicopter crews from Air Station Cape Cod, Mass. The 270-foot Coast Guard Cutters Northland and Seneca, along with the 87-foot Coast Guard Cutter Mako were also dispatched to the scene.
The Atlantic City helicopter crews were able to relocate the stricken vessels crew and relay the position to the incoming Cape Cod rescue crews.
Upon arriving on scene the Cape Cod helicopter crew recovered Mr. Rubright from the water and flew him to Atlantic City where he was pronounced deceased by the Atlantic County Medical Examiner.
A second MH-60 Jayhawk rescue helicopter crew from Elizabeth City was dispatched to the scene and hoisted Hogan and Gravie from the sailboat and flew them to Air Station Atlantic City where they were turned over to local EMS crews and taken to a AtlatiCare Regional Medical Center in Atlantic City for treatment.
Both Hogan and Gravie suffered from mild hypothermia and are in good condition.
This case is under investigation by the Coast Guard.
Salvors Rescue Grounded Containership with Hazardous Cargo on Board
NETHERLANDS-based towage and salvage specialist Multraship and Belgian salvage operator URS Salvage & Maritime Contracting have refloated the 39,900 gt, Singapore-flag containership Kota Lagu, which grounded in the River Scheldt with hazardous cargo on board on October 25.

The 2006-built vessel grounded after suffering rudder failure near Ossenisse on the River Scheldt, between Hansweert and Antwerp, during ebb tide. Working under a Lloyd's Open Form agreement, Multraship and URS immediately mobilised an experienced salvage team and six tugs. The salvors tried to refloat the vessel on the same tide, but the water level had fallen too far and the operation had to wait for the next tide, at around midnight.

Because the vessel had hazardous cargo on board, local authorities declared a 'High Alert' situation, and the salvors accordingly made provision for a potential major incident by mobilising further tugs, salvage professionals, booms, pumps, and lighters for bunker discharge. In the event, eight tugs were able to refloat the vessel on the next tide and subsequently towed it to the Scheldepoort yard at Flushing, where it was redelivered to its owners.

Leendert Muller, managing director of Multraship, says, "This was another incident which served to illustrate the essential nature of the professional salvage industry, and the importance of having immediate access to its resources and expertise. Working closely with the local authorities, we were able to avert a potentially catastrophic outcome, given the presence on board the vessel of hazardous cargo."

Peter Vierstraete, general manager of URS, adds, "The fact that we were able to refloat the vessel on this occasion without major incident should not disguise the continuing need to ensure that the resources are available, and in position, to deal with such emergencies.
Have a wonderful weekend...


RS