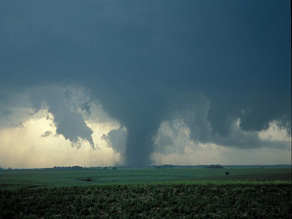 Scientists: U.S. not prepared for severe weather, climate change
Heavyweights in the scientific community are not waiting until the November election.
Tornadoes are forming at a record setting pace this year. This twister touched down near Hebron, Nebraska in 2004. Photo by Bob Henson, UCAR
Scientists cannot fully understand or deal with the impacts of climate change without the proper political leadership, and without funding for scientific observation and computing. That was the message from the University Corporation for Atmospheric Research, the American Meteorological Society, and the Weather Coalition in a teleconference with reporters today.
In a document aimed at the next crop of political leaders, the scientists said "Science is key to understanding these impacts, but weather and climate research and operations budgets have been flat or declining for years due to the budget wars in Washington."
John Snow, co-chair of the Weather Coalition and dean of the College of Atmospheric and Geographic Sciences at the University of Oklahoma, said there may have been a lot of good intentions in Washington in recent years, "But the reality is they've been unable to deliver."
"The science budget has barely been keeping up with inflation, and in some cases has suffered actual cuts," said Snow.
The National Science Foundation got a 2% increase, not keeping up with inflation, and the weather and climate research got 0%, effectively a strong cut," he said.
The scientists are making five recommendations they say will improve the country's resilience to severe weather and climate change:
Observations: Fully fund the earth observing system from satellite and ground-based instruments.
Computing: Greatly increase computer power available for weather and climate research and predictions.
Research and Modeling: Support a research program in earth sciences to advance understanding of weather and climate and their impact on society.
Societal Relevance: Support education, training and communication efforts for the maximum benefit of society.
Leadership and Management: Implement effective leadership to ensure that these investments are done in the best interest of the nation.
The price tag? The group says lawmakers will need to add about $9 billion to the current $10 billion that is budgeted over the next five years.
Whether it is hurricanes, tornadoes, fires, floods, snow, or drought, 75% of natural disasters around the world are triggered by weather and climate. That translates to billions of dollars in weather related losses every year in the United States.
"What we have put forward in the transition document is what we think is needed to prepare the nation for climate change, to be able to continue to improve our knowledge," said Jack Fellows, vice president of the University Corporation for Atmospheric Research.
"Frankly, we think this is one of the most pressing problems facing humankind, but it just happens to be on a longer scale than a lot of problems our country faces," said Fellows.
The other five organizations that wrote the document are the
American Geophysical Union
, the
Consortium of Universities for the Advancement of Hydrologic Science
, the
National Association of State Universities and Land-Grant Colleges
, the
Consortium for Ocean Leadership
, and the
Alliance for Earth Observations
.


WEATHER NOTE
Virtual hurricane disaster helps train responders

The software simulation creates realistic catastrophes to help emergency planners get ready for the worst situations.
August 7, 2008
SUFFOLK—
Garage-door-sized television monitors showed a sexy, virtual cable-news anchor reading a breaking news alert about the effects of Hurricane Nerissa that had crashed ashore east of Norfolk about 10 hours earlier.
"Removal of traffic congestion is especially challenging," the news anchor said.
As the computerized voice spoke, people sitting behind monitors had to react to that data as well as the constantly updating information about the storm. Some of it was good news, some of it bad.
In a room dimly lit by blue lights made to resemble a command-and-control center, a number of "role players" tried to orchestrate an emergency response to the simulated hurricane. Meanwhile, a separate group of engineers looked down on the players from a terrace where they made sure the fake hurricane was performing as it should, and that the role players' actions were working to fix the effects of the natural disaster.
Lockheed Martin, perhaps best known as a defense contractor, invited about a dozen emergency management officials to the company's Center for Innovation in Suffolk to show off a new software system that can simulate various types of catastrophes ranging from wildfires in California to a nuclear explosion.
The presentation comes just as Hampton Roads is about to enter the peak of the hurricane season from mid-August through the end of September.
The software simulation creates a virtual world based on real demographic information for the people who oversee police, fire, rescue and other emergency responders during a disaster. It could be used to train emergency officials in a city, county or regional agency on how to react if a real hurricane rolls up the shore.
How a storm would knock out power lines, damage buildings or injure people is the purpose of the simulation. Local and state agencies would then be better prepared for the real thing. Lockheed Martin wants communities to buy the simulation program that uses information from the U.S. Census Bureau and Federal Emergency Management Agency to construct disasters.
The goal is to make it real enough that the people getting trained act quickly and appropriately, from the computer command center to dispatch instructions to rescue people, get supplies where they need to go, open up closed roadways, get stranded people into shelters and make sure problems are solved or contained, for example, rerouting traffic as streets flood or power lines get knocked down across roads.
Predicting the behavior of a storm can be done via computer. Predicting what people will do is something else. But Lockheed Martin officials say their new program is detailed enough to show how people might react to a hurricane. For example, some people who work minimum-wage jobs may not evacuate because they are worried they'll lose their jobs, said David J. Macannuco, software engineering manager for Lockheed Martin.
The program can be customized for any geographic area, and the depth of its realistic effects depends on the amount of data put into it, said Michael J. Mulleavey, communications manager for the Center for Innovation.
TWISTER NAILS A BUS

MARITIME NOTE
Freighters dump waste directly into Great Lakes
By SooToday.com Staff
SooToday.com
Friday, August 22, 2008
For seven decades, Great Lakes freighters - including those passing through the Soo Locks with coal, taconite and other loads - have been legally dumping cargo wastes overboard.
And the practice could continue well into the future, according to an article in the
Duluth News Tribune
.
The U.S. Coast Guard wants to finalize a new regulation that would allow ships to "sweep" two million pounds of load residue into the water each year.
Washing away wastes in this fashion prevents the contamination of future cargoes and allows crews to keep their equipment clean.
In response to criticisms, shippers claim unloading cargo residue on land is too costly.
Besides, they argue, materials thrown into the water are harmless and small in volume.
But objectors say the wastes may contain mercury and other heavy metals.
Three states - Michigan, Minnesota and Pennsylvania - are actively opposing the continuation of cargo sweeping.
Several environmental groups are also speaking out against the proposed regulation.
The Coast Guard is expected to post an environmental impact statement Friday in the
Federal Register
.
Doing so will start a 30-day response period.
RS