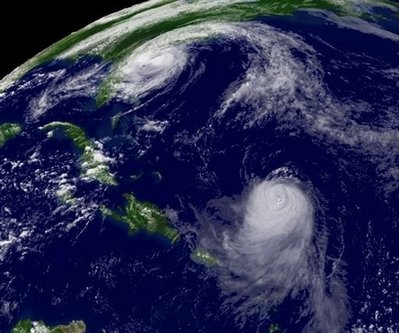 Hurricane Ike weakens as it batters Cuba
Hurricane Ike weakened to a Category 2 storm after making landfall in northeastern Cuba, the U.S. National Hurricane Center in Miami reported Monday.
The storm churned ashore as a dangerous Category 3 storm but forecasters said the hurricane was losing strength as it moved west across Cuba.
Ike has torn apart houses and knocked over trees along the northern coast of Cuba. More than 770,000 Cubans have been forced to leave their homes.
Forecasters said the storm hit Cuba's Holguin province at 9:45 p.m. ET Sunday and is expected to reach central Cuba later Monday and western Cuba on Tuesday.
The centre said the hurricane is dumping heavy rain on parts of Cuba and causing "large and dangerous battering waves" along the coast.
A hurricane warning was in effect on Monday for Cuba from Guantanamo province westward even though the storm is expected to weaken further.
According to BBC News on Monday, a number of homes along Cuba's northern coast have been destroyed by the storm.
Ike is expected to skirt the Florida Keys on Tuesday as it heads into the Gulf of Mexico.
A tropical storm warning was issued for the Florida Keys as of early Monday. The centre reported that the storm had maximum sustained winds close to 165 kilometres per hour at 5 a.m. ET.
Authorities are blaming Hurricane Ike for at least 58 deaths in Haiti.
The hurricane slammed into the Turks and Caicos Islands Saturday night as an "extremely dangerous" Category 4 storm.
It reportedly damaged about 80 per cent of homes on Grand Turk, the main island in the Turks and Caicos, said Premier Michael Misick.
Authorities are warning residents who live along the Gulf from Florida to Mexico to monitor Ike's progress.
LATEST TRACK
Click to zoom in – GIS Users click here
Click image to zoom in – GIS Users click here



RS