Hurricane Ike heads for Cuba
HAVANA (Reuters) - Hurricane Ike killed at least 37 people in Haiti and ripped off rooftops in the southern Bahamas on Sunday as Cuba scrambled to get hundreds of thousands out of the path of a storm headed toward the U.S. Gulf oil patch and possibly New Orleans.
Despite weakening slightly, Ike was still a dangerous Category 3 hurricane with 120 mph (195 kph) winds and a possible 12-foot (3.6-metre) storm surge.
It bore down on Cuba's coast after dumping more heavy rain on Haiti and raging through Britain's Turks and Caicos, and Great Inagua, the Bahamas' southernmost island.
"This one is quite severe," said Inagua resident Shanie Roker. "There is a lot of wind and rain. Roofs in Matthew Town are being damaged and trees are coming down."
Residents of the Florida Keys, a 110-mile (177-km) island chain connected by bridges with only one road out, were told to evacuate as a precaution.
Ike could follow a path similar to Hurricane Gustav through the Gulf of Mexico toward Louisiana and Texas. It may threaten New Orleans, the city swamped by Hurricane Katrina three years ago, and the Gulf energy rigs that account for a quarter of U.S. oil output and 15 percent of natural gas output.
The hurricane rained new misery on Haiti. Authorities said at least 37 people, including 13 children, were killed by floods triggered by Ike in Cabaret, a town north of the capital, Port-au-Prince.
"The whole village is flooded," civil protection official Moise Jean-Pierre said. "The death toll could go higher."
Flooding from Tropical Storm Hanna last week was believed to have killed at least 500 people around the port city of Gonaives.
On Sunday, rain from Ike was causing the La Quinte river to rise again and floodwaters were seeping back into Gonaives, Mayor Stephen Moise said. All of the bridges linking the city to the rest of the country had collapsed.
"Gonaives is really a devastated and isolated city," he said. "We cannot bear another hurricane."
PATH ACROSS CUBA
In the neighbouring Dominican Republic, a 60-year-old man was killed by a falling palm tree and some 41,000 people were driven from their homes by rain and gusty winds.
Many of Cuba's 11 million people could be affected by Ike, which was expected to hit land north of Guantanamo Bay -- home to the controversial U.S. prison camp for terrorism suspects -- and spend nearly two days over the long, narrow island.
By 5 p.m. EDT (10:00 p.m. British time), the centre of Ike was 75 miles (120 km) north-northeast of Guantanamo.
Authorities used buses, trucks and other transportation to move thousands of tourists inland from Cuba's prime resorts along the northern coast. Ranchers herded cattle in grazing areas of eastern Las Tunas and Camaguey to higher ground.
Ike was set to come ashore in Holguin, home of the nickel industry, Cuba's most important export, then move westward over the heart of the sugar industry. Holguin's mines and three processing plants in the mountains were shut down.
Holguin and neighbouring provinces have not been hit by a storm of Ike's power in more than 50 years.
"I've never seen a hurricane pass over this city and I'm terribly frightened," university student Yaneisy Betancourt said by telephone from the port city of Nuevitas.
The storm hit the eastern islands of the Turks and Caicos as a Category 4 storm with 135 mph (215 kph) winds, damaging 80 percent of the houses on Grand Turk, home to about 2,500 of the islands' 22,000 residents, government spokesman Courtney Robinson said.
"There's a lot of flooding. Power lines are down. Communications lines are out," he said.
In the Florida Keys, a steady stream of traffic moved along the Overseas Highway as some people evacuated even though Ike was expected to pass at least 100 miles (160 km) to the south.
Ike was forecast to curve into the Gulf in the wake of Gustav, which went ashore just west of New Orleans last week, sparing the city traumatized by Katrina in 2005.
Katrina killed 1,500 people and caused about $80 billion damage on the U.S. Gulf Coast.
Ike's most likely track had it aimed at the Texas-Louisiana border. But long-range forecasts have a large margin of error and any deviation could take it toward New Orleans.
Forecasters expected Ike to weaken to a Category 1 storm on the five-step Saffir-Simpson intensity scale over Cuba but to regain Category 3 strength as it nears the U.S. Gulf coast.
Oil companies had begun returning workers to the offshore platforms that were evacuated before Gustav hit but began preparing for the arrival of Ike.
(Additional reporting by Joseph Guyler Delva in Port-au-Prince, Michael Haskins in Key West, John Marquis in Nassau and Manuel Jimenez in the Dominican Republic; Writing by Jim Loney; Editing by Tom Brown and John O'Callaghan.
5:29 a.m. ET 9/7/2008
Category 4 Hurricane Ike (135 mph) is a potentially deadly hurricane. It is slamming the southern Bahamas.
Tropical Storm Hanna has traveled from Myrtle Beach to Boston producing locally flooding rains and occasionally damaging tropical storm-force winds during its trek up the East Coast. Hanna has now lost tropical characteristics, and the National Hurricane Center has issued its last advisory on Hanna.
Map of current winds and gusts.
Watch the latest hurricane forecast.
Hurricane Ike
Northerly shear and some slight dry air entrainment enabled Ike to weaken just a touch on Saturday morning. Maximum sustained winds near the center lowered to 110 mph early Saturday, but reintensified quickly by Saturday afternoon and evening. Maximum sustained winds are back up to 135 mph; a dangerous Category 4 hurricane.
As of 5 a.m. ET, Ike was located about 65 miles east of Great Inagua Island.
View the Ike Tracker here.
Hurricane Ike is currently moving just south of due west at 15 mph. Ike is now moving away from the Turks and Caicos Islands and towards Great Inagua Island with powerful winds and waves and eventually all of the southeastern Bahamas this morning.
Residents and tourists should have already taken the necessary precautions to protect life and property and prepare for the arrival of what will likely be a life-threatening Category 4 hurricane.
You can view the projected path here.
Hurricane warnings are posted for the central and southeastern Bahamas and the Turks and Caicos, as well as eastern Cuba, while a hurricane watch is posted for central Cuba (the provinces of Villa Clara, Cienfuegos, and Sancti Spiritus) and Andros Island in the Bahamas. A tropical storm warning is in place for the the northern coast of the Dominican Republic and Haiti.
After passing through the Bahamas, the next landmasses in front of Ike will be Cuba and possibly the Florida Keys.
Some of the latest model track guidance points to a potential path that would take Ike across Cuba, on a east to west track. Although this is not a good outcome for Cuba, it would be a positive outcome for south Florida and the Florida Keys. The center of Ike would stay south of Florida and the interaction with Cuba would allow Ike to weaken significantly.
Still, there is another possibility that Ike will scrape the northern Cuba coast and move through the Florida Straits; keeping most of its strength.
Residents and tourists alike should pay close attention to the progress and forecast track of Ike. This is a very dangerous and potentially deadly hurricane and bears close watching.
After its passage near Cuba and the Florida Straits, Ike is then forecast to turn into the central or eastern Gulf of Mexico. Interests along the Gulf Coast should pay close attention to Ike's projected path.
Tropical Storm Hanna
At around 3:15 a.m. EDT Saturday morning, Hanna made landfall near the South Carolina/North Carolina border producing tropical storm-force winds gusts (occasional hurricane force) with some locations experiencing sustained tropical storm-force winds.
Here is a short list of some notable gusts:
Kure Beach, NC: 77 mph
Wrightsville Beach, NC: 72 mph
Annapolis, MD: 54 mph
North Myrtle Beach, SC: 53 mph
Wilmington, NC: 54 mph
North Wildwood, NJ: 51 mph
Carolina Beach, NC: 50 mph

After making landfall, Tropical Storm Hanna moved up the East Coast and has now moved off the New England Coast and lost its tropical characteristics.
Hanna's top maximum winds are at 50 miles per hour.
View the Hanna Tracker.
Hanna continues to motor to the northeast at about 33 mph. It has spread heavy rain and windy conditions throughout portions of the mid-Atlantic and Northeast. D.C., Philadelphia, and New York have all experienced fairly heavy rain from the midday hours and through the afternoon and early evening on Sunday. Many rainfall amounts over 5 inches have been reported, with a few over 8 inches. There have been numerous reports of local street/highway, urban, apartment, residential flooding in Hanna's wake along the East Coast.
Here's a look at the rolling 24-hour rain totals due to Hanna.
For the latest updates stay tuned to The Weather Channel and click on weather.com.
LATEST TRACK
Mariners' 1-2-3 Rule
Click image to zoom in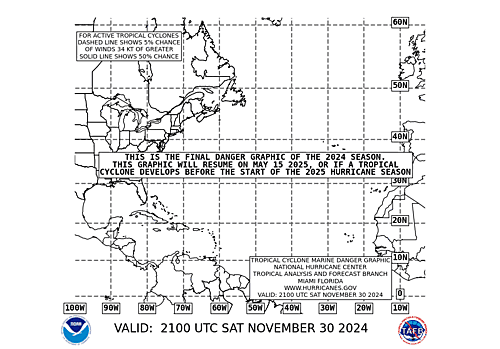 5th ANNUAL NATIONAL PREPAREDNESS MONTH

WASHINGTON

-

The U.S. Department of Homeland Security announced today that more than 1,200 national, regional, state and local businesses and organizations have pledged their support and joined the 2008 National Preparedness Month Coalition. Sponsored by the department's Ready Campaign, National Preparedness Month helps to raise awareness and promote action by Americans, businesses, and communities on emergency preparedness.
"As we approach our fifth National Preparedness Month, I want to thank the hundreds of coalition members who are making a difference in their communities by helping raise the basic level of preparedness in our country," said Homeland Security Secretary Michael Chertoff.
"Individual preparedness is the cornerstone of emergency preparedness. Experience shows that if Americans take steps ahead of time, they stand a much better chance of coming through an emergency unharmed and recovering more quickly."
The Ready Campaign and Citizen Corps (
www.citizencorps.gov
) are specifically encouraging individuals across the nation to take important preparedness steps. These steps include: getting an emergency supply kit, making a family emergency plan, being informed about the different emergencies that may affect them, as well as taking the necessary steps to get trained and become engaged in community preparedness and response efforts.
National Preparedness Month Coalition members have agreed to distribute emergency preparedness information and sponsor activities across the country that will promote emergency preparedness. Membership is open to all public and private sector organizations. Groups and individuals can register to become members by visiting
www.ready.gov
, and clicking on the National Preparedness Month banner.
Senate Homeland Security and Governmental Affairs Committee Chairman Joseph I. Lieberman and Ranking Member Susan M. Collins, along with House Homeland Security Committee Chairman Bennie G. Thompson and Ranking Member Peter T. King, will serve as honorary Congressional Co- Chairs of National Preparedness Month 2008. Together, they will lead
the effort to increase public awareness about the importance of emergency preparedness on Capitol Hill and throughout the country.
For more information on the Ready Campaign and National Preparedness Month, please visit
www.ready.gov
or
www.listo.gov
. Information is also available by phone at 1-800-BE-READY or 1-888-SE-LISTO.
February 2008 marked the Ready Campaign's fifth year at the Department of Homeland Security. Launched in 2003 in partnership with The Advertising Council, Ready is designed to educate and empower Americans to prepare for and respond to emergencies, including natural disasters and potential terrorist attacks. It has proven to be one of the most successful campaigns in Ad Council's more than 65- year history. Since its launch, the campaign has generated more than $703.2 million in donated media support. Individuals interested in
more information about family, business and community preparedness can visit
www.ready.gov
or call 1-800-BE-READY to receive free materials.
Linking up with the Ready.gov people and participating in September's National Preparedness Month, is an easy win. The federal people are already doing all the hard work. All you really have to do is sign up. Most clubs and ARES groups are already doing activities which fit into their structure, so why not get credit for your actions? Of course if you do something more with this opportunity, so much the better! But you have to sign your group in and no one can do that for you. There are hundreds of ARES groups and clubs in the country.
Wouldn't it be fun to have even 70% of them sign up and get noticed? Go to
www.ready.gov
, and click on the National Preparedness Month banner.
RS