When Thunder Roars, Go Indoors!
Lightning Safety Week: June 22-28, 2008
Summer is the peak season for one of the nation's deadliest weather phenomena— lightning. But don't be fooled, lightning strikes year round.
The goal of this Website is to safeguard U.S. residents from lightning.
In the United States, an average of 62 people are killed each year by lightning.
Already in 2008, 8 people have died due to lightning strikes. In 2007, 45 people were struck and killed by lighting in the U.S.; hundreds of others were injured. Of the victims who were killed by lightning:

98% were outside
89% were male
30% were males between the ages of 20-25
25% were standing under a tree
25% occurred on or near the water
The reported number of injuries is likely far lower than the actual total number because many people do not seek help or doctors do not record it as a lightning injury. People struck by lightning suffer from a variety of long-term, debilitating symptoms, including memory loss, attention deficits, sleep disorders, numbness, dizziness, stiffness in joints, irritability, fatigue, weakness, muscle spasms, depression, and an inability to sit for long.
Lightning is a serious danger. Through this site we hope you'll learn more about lightning risks and how to protect yourself, your loved ones and your belongings. As a start, get an overview of Lightning Safety or stop by our comprehensive page of handouts, brochures, links and more.
USPLN Lightning Data for the Continuental United States.
Data is delayed 30 minutes and represents 2 hour period.
USPLN Lightning Data for CONUS, image, copyright 2008 WDT; data, copyright 2008 WSI Corporation. Used by permission from WSI Corporation. All rights reserved.

WEATHER NOTE

Menendez panel will look at U.S. role in global disasters
by The Associated Press
Tuesday June 17, 2008, 5:37 AM
A congressional subcommittee chaired by a New Jersey senator is taking up the politically sensitive question of how the United States can aid disaster victims if their governments reject foreign involvement.
The panel headed by Sen. Robert Menendez, (D-N.J.) will hear from foreign relations experts Tuesday as it weighs issues raised after last month's cyclone in Myanmar, the recent earthquake in China and other disasters.
Myanmar's ruling military junta severely restricted humanitarian aid after the storm there left tens of thousands dead and missing.

National Weather Service Finds Department is TsunamiReady™
The Orange County Board of Supervisors on Tuesday recognized the Department's Emergency Management Bureau, along with emergency managers from coastal cities in Orange County, for the achievement of completing the Natonal Weather Service StormReady and TsunamiReady programs. Orange County has become the nation's most populous county to earn the Weather Service honor.
To read the Board of Supervisors staff report on the issue click here
.
To see the National Weather Service press release on the county's achievement click
Contact: Matt Ocana FOR IMMEDIATE RELEASE
801-524-5692 June 17, 2008

NOAA Recognizes Orange County, Calif., as TsunamiReady™ and StormReady®
Orange County, Calif., has completed NOAA's National Weather Service StormReady® and TsunamiReady™ programs, better equipping the county to handle severe weather and tsunamis. The Orange County emergency management team fulfilled a rigorous set of warning and evacuation criteria, including the development of a formal hazardous weather plan.
"Orange County is vulnerable to tsunamis and severe weather due to its location on the coast," said Jim Purpura, meteorologist-in-charge of the weather forecast office in San Diego. "As the second most populous county in the state of California, and the fifth most populous in the United States, the likelihood of the public encountering a tsunami or severe weather is greatly increased. Public awareness and preparedness are essential."
Orange County now becomes not only the most populous county in the U.S. to achieve TsunamiReady recognition, but also the only county to have every coastal community both StormReady and TsunamiReady. Orange County cities that completed the TsunamiReady program are Dana Point, Huntington Beach, San Clemente, Newport Beach, Seal Beach, and Laguna Beach.
"Orange County was able to achieve this recognition because of the planning partnerships we have within our county along with state and federal agencies like the National Weather Service," said Orange County emergency manager Donna Boston.
At a ceremony in Orange County today, Purpura will present a recognition letter and TsunamiReady™ and StormReady® road signs to county officials.
To be recognized as TsunamiReady™ and StormReady®, a community must:
• Establish a 24-hour warning point and emergency operations center;
• Have more than one way to receive tsunami and severe weather warnings and forecasts to alert the public;
• Create a system that monitors local weather conditions;
• Promote the importance of public readiness through community seminars; and
• Develop a formal hazardous weather plan, which includes training severe weather spotters and holding emergency exercises.
Resilience to disasters is everyone's responsibility. Educating yourself and your family on environmental hazards, maintaining a disaster supply kit, and having an emergency plan in place, are all proactive ways you can be better prepared.
The TsunamiReady™ and StormReady® programs are part of NOAA National Weather Service's working partnership with the International Association of Emergency Managers, the National Emergency Management Association, and the National Tsunami Hazard Mitigation Program. The TsunamiReady™ and StormReady® recognitions expire in three years, after which the county will go through a renewal process.
The National Oceanic and Atmospheric Administration, an agency of the U.S. Commerce Department, is dedicated to enhancing economic security and national safety through the prediction and research of weather and climate-related events and information service delivery for transportation, and by providing environmental stewardship of our nation's coastal and marine resources. Through the emerging Global Earth Observation System of Systems (GEOSS), NOAA is working with its federal partners, more than 70 countries and the European Commission to develop a global monitoring network that is as integrated as the planet it observes, predicts and protects.
On the Web:
TsunamiReady™ program: http://www.tsunamiready.noaa.gov

StormReady® program: http://www.stormready.noaa.gov
StormReady® and TsunamiReady™ are registered trademarks of the National Oceanic and Atmospheric Administration.
Sent from our friend Sam! Thanks Sam!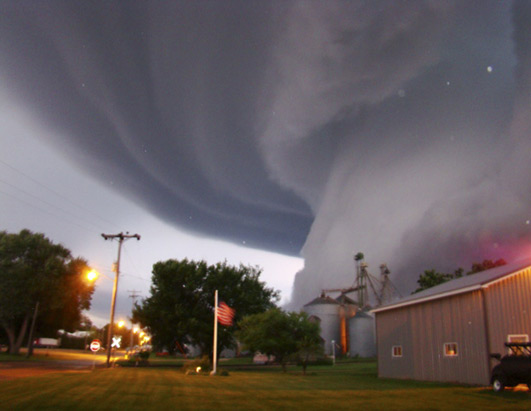 Week's Best: Twister Strikes, More
A huge tornado funnel cloud touches down in Orchard, Iowa, Tuesday, June 10, 2008 at 9:04 p.m. The Globe Gazette and Mitchell County Press News reported that Lori Mehmen of Orchard, took the photo from outside her front door. Mehmen said the funnel cloud came near the ground and then went back up into the clouds. The incident caused tree and crop damage, but no human injuries were reported.
(Lori Mehmen/AP Photo)
Here is more video from Iowa storm chasers as they tracked the tornado that hit Parkersburg.


MARITIME NOTE

From the Masters Quarters at








RS