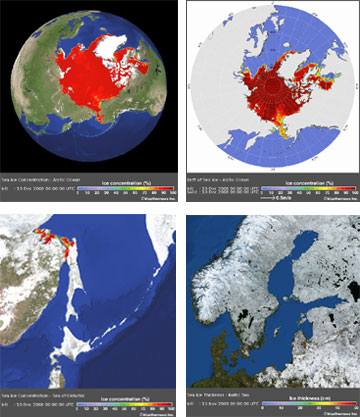 Weathernews launches Global Sea Ice Information website
The Global Ice Center has been collecting and monitoring global sea ice data, including ice concentration, ice thickness and ice drift, since its opening in July 2008, in order to provide unified global sea ice information to shipping companies.
The Global Ice Center's information covers such data as sea ice concentration, thickness and drift over not only the Arctic Sea, but also the Baltic Sea, the Sea of Okhotsk and the Gulf of Saint Lawrence.
Recently, sea ice data from the Global Ice Center was utilized for a successful and safe voyage through the Baltic Sea by an LNG tanker operated by one of the world's major shipping companies.
In the near future, we will provide historical sea ice data, such as the first day of freezing, the first day of melting, the average rate and the largest amount of sea ice area.
Weathernews believes that our official Global Ice Center website is able to support many shipping vessels across the world, in order to contribute to the safe passage of the vessels that brave the icy waters of the Arctic Ocean.
[Major Characteristics of the Global Ice Center]
AnalysisThe Global Ice Center provides analysis information of sea ice conditions in all affected regions, using data from our original observation network and from organizations of various countries.
ForecastThe Global Ice Center original "I-SEE" model predicts sea ice concentration, thickness and movement out to two weeks, to support safe ship operation.
NetworkThe Global Ice Center, by using innovative technology in academia applied to sea ice data, is able to provide vital information to maritime companies, as well as feedback from ship reports.
Weathernews Inc. is the world's largest private weather service company headquartered in Japan. It is the only global weather content maker that employs over 600 staff (including more than 200 meteorologists) in offices in 32 cities in 16 countries and regions, including United States, United Kingdom, Germany, Netherlands, Italy, France, Spain, Australia, China, Japan, Korea, Malaysia, India, Nepal and Taiwan.
WEATHER NOTEWaterspout causes chaos for boaties
A boating couple from the Coromandel Peninsula who were singled out by a freak of nature on the first day of their holiday have not been put off the lifestyle.
Anne Louden and her husband John were watching an electrical storm last night from their anchorage off Great Barrier Island, when the sky became dark. Just as they went below deck, a water spout picked up their nine metre launch, threw it into the air and dumped it back down. The couple suffered only a few cuts and bruises.
Ms Louden says she has seen disasters on TV and could not imagine ever being part of such an event.
"It's just one of those weird, freaky things that happens. You can't be put off boating, you really can't, it's a spectacular lifestyle. But it gives you an appreciation of weather and caution."
Ms Louden says none of the other 30 or so boats in the bay were touched.
Waterspouts occur when layers of high, cool air blow over a body of water such as a lake, river or ocean sweeping up moist air from below.
Tornado Intercept Audio
MARITIME NOTELack of systems training poses threat to shipping
Electronic navigation aids are not being properly used, says marine safety body
The UK's sea safety body has warned that computerised navigation systems are steering large vessels into dangerous shallows because officers have insufficient training in their use.
The Department for Transport's
Marine Accident Investigation Branch
(MAIB) sounded the alert after over-reliance on an incorrectly used Electronic Chart Display Information System (ECDIS) resulted in the temporary grounding of the cargo ship Performer on Harborough Sand on its way to Grimsby in May 2008.
A subsequent investigation by MAIB warned: "The use of ECDIS has steadily increased in recent years, and it is disturbing that the number of accidents resulting from the incorrect use of ECDIS and ECS [Electronic Chart Systems] through poor system knowledge has also risen.
"ECDIS will soon replace paper charts as the primary planning and monitoring media onboard most vessels, but the system can only realise its potential benefits to maritime safety if all mariners who are expected to use the equipment at sea are properly trained."
Many ships' officers, including the master of Performer, were only formally trained in the use of paper charts, although many have used electronic aids. An ECDIS installed in 2007 was Performer's primary means of navigation, but none of her bridge watchkeeping officers had been trained in its use.
MAIB cited a number of accidents in recent years in which misuse of ECDIS or ECS has been a contributing factor, including a cross-Channel ferry that headed for shallows in 2004 without its ECDIS issuing a warning because it had not been correctly set up.
And in January last year a vessel hit a submerged wreck near Dover, severely damaging her propellers, because the wreck was not shown on the ECS display. "The need for mandatory training in ECDIS is compelling," said the MAIB report.
Proposed international regulations require ECDIS in most large new passenger vessels and large cargo boats and tankers, and its retro-fit over time to existing vessels.
Dangers At Sea
January 2009...gone already! Have a great weekend!
RS