NOAA Mission Discovers Historic Shipwreck Off Turks And Caicos Islands; 'The Story Was Lost To History'
Maritime archaeologists today announced they have recently identified the wreck of the historic slave ship Trouvadore off the coast of East Caicos in the Turks and Caicos Islands. NOAA's Office of Ocean Exploration and Research significantly funded several years of archaeological research leading to the discovery by Don Keith and Toni Carrell, from Ships of Discovery, an underwater archaeology research institute.
The Spanish vessel Trouvadore was participating in the slave trade, outlawed in the British Indies, including the Turks and Caicos Islands. In 1841, after the vessel was grounded on a reef, Caicos authorities arrested the crew, and most of the 192 African survivors settled on Grand Turk Island.
Keith and Carrell believe the African survivors of the Trouvadore are the ancestors of a large portion of current residents in the Turks and Caicos Islands. For example, traditions on the Islands have a recognizable African origin. The Turks and Caicos National Museum is recording these traditions through oral histories and is educating the community about their ancestral history.
"What makes a people different and distinct is their unique history," said Keith, who has worked in the islands for 30 years. "The people of the Turks and Caicos have a direct line to this dramatic, historic event – it's how so many of them ended up being there. We hope this discovery will encourage the people of the Turks and Caicos to protect and research their local history, especially the history that remains underwater."
"Although the sinking of the Trouvadore was a major event on the Island, the story was lost to history over the following century and a half," said Carrell. "After we uncovered records of the shipwreck several years ago, we were stunned to realize that Turks and Caicos residents had never heard of the shipwreck that brought their ancestors to the Island."
In 2004, using historical accounts of where the Trouvadore went down, along with remote sensing and visual searches, archaeologists focused on a ship near a local landmark known as the Black Rock. Records showed the vessel had sunk at Breezy Point, approximately two miles from the Black Rock Wreck location.
"But with the wind blowing constantly from the east, and a current running from that direction, the ship would have drifted," Keith said. "That could have happened after it was lightened by salvage, as well." Keith and his team used careful measurements of the hull and after years of research to amass compelling circumstantial evidence, concluded in August that the Black Rock Wreck could only be the Trouvadore.
Keith and Carrell knew from the start it would be difficult to find artifacts to identify the ship. "People of these islands traditionally have used resources from sunken ships. There are houses built on Grand Turk from ship remains," said Keith. "We knew the ship had been salvaged upon sinking, and we weren't going to find a bell with 'Trouvadore 1841' on it."
The archaeologists learned about the Trouvadore while tracing the current locations of artifacts from the Islands that were sold to museums in the U.S. and Europe over a hundred years ago. Examining records about "African idols" that were sold, they found the account of the Trouvadore wreck.
"It's rare and exciting to find a wreck of such importance that has been forgotten for so many years," said Frank Cantelas, marine archaeologist for NOAA's Office of Ocean Exploration and Research. "By identifying the Trouvadore, Don and Toni have really made a contribution to history and given the Islands' people a better sense of place."
Keith and his colleagues also discovered the wreck of the U.S. naval vessel Chippewa, lost in 1816. The researchers discovered a line of carronades, a unique type of cannon carried by the Chippewa, near the reef off Providenciales, which the vessel reportedly struck. The Chippewa and the Onkahye, sunk in 1848, were part of America's efforts to stop the African slave trade and piracy by patrolling the Caribbean. Keith plans to continue work on the Chippewa wreck site and hopes to discover the Onkahye nearby.

NOAA understands and predicts changes in the Earth's environment, from the depths of the ocean to the surface of the sun, and conserves and manages our coastal and marine resources.
WEATHER NOTE


Nenana, Alaska, Receives Nation's 1,000th NOAA Weather Radio Transmitter
Central interior Alaskan residents, visitors, barge captains and railroad operators now have access to weather information anytime, thanks to a new NOAA Weather Radio All-Hazards transmitter recently installed on Toghotthele Hill in Nenana, the 1,000th of these transmitters installed by NOAA.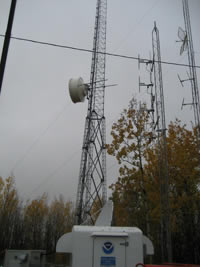 Residents of the Nenana area can tune to 162.4 MHz on NOAA Weather Radio for the broadcasts from NOAA's Weather Forecast Office in Fairbanks. NOAA Weather Radio All-Hazards, known as "The Voice of the National Weather Service," is a continuous 24-hour source of the latest weather forecasts and warnings.
"Citizens can now have weather information available at their fingertips any time in the Nenana area," said John Dragomir, meteorologist in charge of the National Weather Service Weather Forecast Office in Fairbanks. "The Nenana transmitter significantly increases the weather service's ability to reach Alaska's central interior directly with weather warnings and forecasts. A NOAA Weather Radio in the home, car, truck, boat and other vehicles helps protect families, individuals and property."
This radio broadcast has been made possible through a partnership between NOAA, the U.S. Department of Agriculture and the city of Nenana. USDA Rural Development provided $39,438 to the City of Nenana for this project. Matching funds and in kind contributions came from the City of Nenana. USDA Rural Development has awarded 97 Weather Radio Transmitter grants for installations in 27 states and Puerto Rico since 2001.
USDA Rural Development acting Alaska state director Chad Padgett said "USDA Rural Development is pleased to partner with the National Weather Service, Nenana mayor Jason Mayrand and our great community supporters of this Program. We are pleased to administer this grant program because NOAA Weather Radio promotes public safety and awareness, and most importantly, saves lives."
"Prior to this opportunity, we had to call the weather service directly in order to receive weather warnings," said Mayrand. "Often we would hear of hazardous weather conditions through the grape vine. With the new transmitter in place not only do Nenana residents have access but also a large population of people that live in more remote regions of Interior Alaska."
"Now that the NOAA Weather Radio All-Hazards network has one thousand transmitters, we have the capability to send critical warnings and environmental information to 95 percent of the U.S. population," said Dr. John L. "Jack" Hayes, director of NOAA's National Weather Service. "NOAA Weather Radio All-Hazards alerts the public to natural or man-made disasters, and keeps them informed until the danger has passed."
MARITIME NOTE

If properly prepared, sailing off-shore can be an exhilarating and rewarding experience. Conversely, if not prepared, it can be miserable and dangerous. Because we prefer 'exhilarating and rewarding', we do everything in our power to be properly prepared. This section is meant to give the reader insight into emergency procedures aboard Vision Quest. The overall plan is to avoid emergencies, but as we all know, 'stuff' happens and you need to be ready!
Of course, the safety and well being of the crew is the highest priority. However, for emergency procedures we must put the boat first. The reason for this can be understood when you think about what would happen to the crew if there was no boat. I am primarily talking about fire and sinking.
Please keep in mind as you read this that these are general guidelines. Every situation is different and requires that the captain and crew adapt the procedures to the given situation. Also note that when a true emergency occurs, an incorrect response often leads to making a manageable situation worse.
Generally speaking, if there is a fire, or the boat is taking on water, the crew must tend to the boat first. This is a higher priority than even aiding a crew member in need. The crew must be disciplined to keep their priorities in order and think before taking action.
an example...
Lets say that you are having a nice sail with your young son or daughter (just the two of you) on a nice summer day a couple of miles offshore. Then the unthinkable happens, your child falls overboard right in front of your eyes! In the first few seconds, your instincts may tell you to jump in to save them. This is where training comes in. You take some time to think about what you need to do and realize that if you jump in after them, chances are you both will drown. You realize that the proper response is to throw floatation and execute your man over board (MOB) procedures. Because you have practiced this a number of times, you are able to bring the boat to your child and save them.
The above example demonstrates that having emergency procedures and practicing them before they are needed saves lives. This is good, but what if you were able avoid the situation altogether? These are some of the things that should have been thought about before ever leaving the dock:
Should I bring another experienced sailor with me in case something happens?
Do I have adequate lifelines?
Should my child be tethered to the boat?
Can they swim?
Do they have a life jacket? Are they required to where it?
What is the weather like? Is it going to change?
Do I have emergency procedures and know how to execute them?
As you can infer from this example, seamanship starts before you leave the dock. You could even say that seamanship starts before you launch your boat; even before you buy your boat!
Priorities
Priorities need to be kept very simple. The reason for this is that when the weather is rough and the crew is hungry and exhausted, complicated things are harder to remember. So, here's the top three:
Don't sink
Don't catch on fire
Don't fall overboard
Also (not in any order):
Avoid bad weather
Know what to do if you can't avoid heavy weather
Watch for gear failure
Minimize passage time
Collision Avoidance
Keep the crew well fed and rested
Crew Training
Avoid injury
Avoiding Seasickness
Abandon Ship!
Of course there are many more things to pay attention to, in fact whole books can and have been written on all of these subjects. In the next few sections I will outline some of the things we have done aboard Vision Quest to address these concerns. This is by no means a comprehensive discussion and I will try to keep it to the points that I think people will be most interested in.
Sinking!
Vision Quest is equipped with many features to prevent taking on water. We also have specialized tools and procedures to use if we end up starting to sink.
Rugged companionway door with positive latch
Positive latches for the cockpit lockers
Pre-cut window repair boards that can be used to patch a blown out window. These will be mountable from inside the boat.
High capacity hand operated bilge pump that can be operated from the cockpit.
High capacity hand bilge pump that can be operated from inside the cabin with all hatches and windows shut.
Electric Bilge pump
Buckets!
Hull breach toolbox with materials that can be used to repair cracks in the hull.
Procedures for determining the source of the leak - quickly.
If it is obvious that the boat is going to sink and our attempts to stem the flow of water are not successful then we can begin our abandon ship procedures and take to the life raft.
Fire!
Fire prevention is the key here. All of our diesel fuel is stored in proper fuel tanks and we do not carry any fuel on deck in jerry cans. We will have a small amount of gasoline (1 gallon) for our outboard motor that we will store in a safe place (probably on one of our transom steps). Propane is properly stored in a locker designed for the purpose which vents overboard. The decks and cabin will be kept clean and orderly.
If a fire does break out, we have 4 fire extinguishers located in strategic places to fight it. The extinguisher in the galley is a fairly large one of the ABC type that can also be emptied into the engine compartment via a fire port if we have an engine fire. Procedures will be in place for the various scenarios and we will practice them.
Man Overboard!
Man overboard is more likely than fire or sinking and is an absolutely critical issue. The prevailing wisdom is that if you fall overboard you are going to die. The reason for this is that it is usually dark and stormy when this happens and it is extremely difficult to find someone in the water, let alone get the boat back to them and retrieve them. This is the case even in mild conditions and can be compounded greatly if the victim is unconscious.
Again, the best way to handle this is prevention. The crew will always be tethered to the boat when working on deck and at night. Even sitting in the cockpit during the day, crew members will have to be tied to the boat unless it is very calm and there is more than one person in the cockpit.
If someone does fall over, they will presumably have their inflatable harness on. These harnesses' inflate automatically when they hit the water and have a manual backup should the auto-inflate mechanism fail. These harnesses are also equipped with a strobe light and whistle to help the boat find them. Each crew member will practice retrieving a man overboard using the most accepted techniques in the racing community. So far, I have never seen anyone fall overboard except in sailing videos. I want to keep it that way!!
Weather Routing
It is important to pick your 'weather window' before you leave. The general consensus is that June is the best time to cross because the winter storms are over and percentage of hurricanes is very low.
Weather routing is critical. You want to avoid extreme weather situations while at the same time avoiding areas of little to no wind. These calms are good for ocean going trawlers, but not so for sailboats with a limited fuel supply. Vision Quest likes to have 15-20 knots of wind just aft of her beam and these are the conditions we will be seeking.
We use sophisticated route planning software (Max Sea) and weather chart software (Ocens Weathernet). These tools allow us to get up to date high seas analysis and forecasts for our area. We will also be using a professional weather router whom we will remain in contact with via email. This person will recommend the proper course to steer to get us into favorable weather patterns. If we lose our satellite phone and SSB radio, we will have to watch the barometric pressure, clouds, and seas to try to figure out our best course (just like the old days!). If we can raise a ship on the VHF radio, we can ask them for a forecast as well.
Heavy Weather
As discussed above, we will do everything we can to avoid heavy weather. Regardless, since we are crossing the North Atlantic and we will be out there for over 3 weeks, we will probably encounter at least a gale or two and some squalls. I would rather not get caught in a storm, but we will be prepared for that as well. Rather than get into a long discussion about tactics, I'll just summarize some of the tools and techniques at our disposal.
Storm Sails made of very heavy orange sail cloth
Inner Forestay for keeping the storm head sail closer to the center of the boat.
Drogue and associated tackle for keeping the boat under control while surfing down large waves ('running off').
Sea Anchor for riding the storm out 'bow to'.
'Heave to' techniques
'Crew preservation' as mentioned in the crew sections below
Secure, solid, and simple boat with redundant systems
Plenty of tools and spare parts for repairs
Gear Failure
Vision Quest has been outfitted in such a way that she can continue on her way when she loses a main system like the engine, rudder, or electrical power. We have spare sails and the ability to patch and mend them should they be damaged. We carry spare rope of all lengths and sizes and all kinds of other tools and materials to repair and patch things as they fail.
There is one thing that has no backup though and that is the standing rigging ...commonly known as the mast and boom for you land lubbers! Losing the mast would put us into a critical situation. Again, this would probably happen when it is rough out. Prevailing wisdom is that when the mast comes down, you need to cut it away and let it sink as soon as possible so that it doesn't ram into the boat and make a hole. This would be an example of one emergency causing another!
In the event that we lose the mast, we would try to build a jury rig with our spinnaker pole and anything else that we are able to salvage. This would hopefully be enough to get us to the nearest point of land. We have enough fuel to motor for 600-800 miles which will help allot but we may be more than 1000 miles away from land. Also, the nearest landfall may be unattainable due to wind and wave conditions. Depending on how much luck we have with the jury rig, amount of fuel we have, and weather conditions, we may very well have to call for help. If this is the case, we would probably be picked up by a ship and have to leave the boat behind.
The good news is that if your rig (mast) is meticulously maintained and inspected by professional riggers and constantly inspected for signs of stress, losing the rig is very unlikely. It is also important not to stress the rig too much in rough and windy conditions; this is done by reducing sail area and not 'beating' the hull too badly in head seas.
Passage Time
The chances for bad weather, gear failure, crew injury, etc go up the longer you are at sea. For this reason, one of our prime objectives is to keep the boat moving toward her destination as fast as safely possible. This is good for moral and keeps the crew busy. Basically we 'pretend' that we are in a race but we temper it with avoiding bad weather and not pushing the boat so hard that something may break. I guess what I'm saying here is that we won't be 'dilly-dallying' around!
Collision Avoidance
It is a big ocean out there, but you would be surprised how closely ships and other yachts pass by you. On Vision Quest, we consider a ship at ten miles range to be a threat and we often track them from twenty or more miles away using our radar.
We carry a radar reflector on our mast which increases the chances of the ship seeing us on their radar. We also have navigation lights on top of our mast which improves visibility at night. This is nice, but we can't depend on a busy ships crew seeing us; we need to be on the lookout for them! When we do spot a ship (or yacht) either by eye, or on the radar, we immediately begin the tracking process.
Basically what you do is watch for a changing bearing. If the bearing to the ship is gradually changing, then you will generally pass well clear of each other. If the bearing is not changing, then you are on a collision course and the ship needs to be contacted on the VHF radio while they are still a fair distance away (miles). This usually works and you mutually decide who will change course and all is well. Sometimes you can't raise them and must change course yourself.
Quick and decisive action is necessary while the ship is miles away ...it is amazing how fast they are going! If we can't get out of their way, and can't contact them, we will begin firing flares and sounding horns, which will hopefully 'snap them out of it' and get them on the radio!
Taking Care of the Crew
The goal is to have a well rested and fed crew that are happy and performing their best. The following list outlines the main things that prevent mutiny!
Pick well balanced, experienced people that you can get along with. Preferably people that have sailed together before.
Maximize sleep and relaxation time
Provide good food that is healthy and satisfying
Keep the boat clean, dry, and orderly
Always have dry comfortable clothing
Dry comfortable pillows, sheets, and blankets
Regular crew meetings, especially if there is any controversy or 'drama'.
Crew Training
In the case of this voyage, the selected crew all know each other and have sailed together on at least one significant passage. Before leaving and periodically during the voyage each crew member will practice many things including:
Man overboard recovery
Sinking drills (a marker is placed where the leak is and they have to find it)
Abandon Ship / life raft deployment drills
Fire fighting drills
Medical emergency training (at least two certified crew)
Sail reefing and changing drills
Sea anchor and drogue deployment and retrieval
Emergency steering
Emergency hull, sail, engine, and systems repair
Injury & Sickness
The best way to avoid injury is to stay well fed and rested. This way, crew members will remember to move slowly and deliberately and always have one hand available to hang onto the boat. A well fed and rested crew will also make better decisions, thus potentially avoiding an injurious situation. The other thing to keep in mind is to try and avoid severe weather and keep the boat under control. A quick story is in order.
A story: On our way to Bermuda during a celestial navigation course, we spent several days in a strong gale. There were several incidents involving losing balance and items flying across the cabin. The worst one I witnessed was a 'twofold snafu'. One night while the captain was preparing dinner, the boat lurched and a huge bottle of olive oil flew across the cabin. Luckily no one was hit, but is spilled all over the place. After a long time trying to wipe this stuff up (bad for moral) we still had an olive oil 'sheen' on the floor that we just couldn't seem to remove. The next day, one of the crew was making coffee and another lurch ...an entire can of Maxwell House all over the cabin! Now we had coffee grounds mixed into the olive oil that was left over from the night before on the floor ...a wicked mess (bad for moral).
Items in the cabin, like big bottles of olive oil, need to be secured at all times! The mess on the floor made the cabin slippery and 'icky'. Although, no one got hurt, they very well could have from the flying olive oil or slippery floor. Another less tangible result was that instead of sleeping or doing worthwhile chores, the off-watch crew had to deal with this mess for hours. Lost sleep and bad attitudes could cause a bad decision later. Again, a manageable incident being compounded into one that was less manageable. We now laugh about this and every time the olive oil comes out, so do the jokes!
Now, back to injury. We carry lots of over the counter medications and first aid supplies. We also carry prescription medications like antibiotics, seasickness medication, epi-pens, etc. We use a land based remote physician service that we can contact through email or satellite telephone. The remote doctors can guide us through the treatment and already knows what medications we have on board (they prescribed them).
Seasickness
Seasickness is a critical safety concern. Many people do recover after a day or two, but some do not. They can become dehydrated and incoherent within a matter of a few days. They are so sick that they can barely move and will definitely make poor decisions if they do decide to do something. If someone get's this sick, medical attention is often required and the remaining crew have to pick up the slack. If two crew get this sick, your ability to handle the boat will be severely compromised. When you are over 500 miles from the nearest land and out of helicopter range, the situation can become critical. You get the idea!
Like most emergencies, prevention is the key. Each crew member needs to have their own plan for dealing with seasickness. If medication is involved, they must have tried it beforehand to make sure that it doesn't cause any adverse effects. These types of medicine are designed to prevent seasickness, not cure it. Therefore, it's good practice to take it before rough weather hits.
If a crew member becomes incapacitated, we will have medications on board and access to a remote doctor over the satellite phone. This will hopefully be enough to get them recovering before the situation worsens.
Abandon Ship
I put this topic last because it is the absolutely last thing we do. In fact, the only time the boat is to be left for the liferaft is if it is almost completely underwater or engulfed in flames.
The key to abandoning ship is to have procedures in place where you simultaneously have someone making 'mayday' calls while others are launching the life raft and retrieving the abandon ship bag (grab bag).
The grab bag is critical. It contains everything needed for short term survival and rescue signaling. Without it, chances of survival are very low. With it, chances of quick rescue are very high. Therefore, the crew must know that our lives depend on that bag ...so don't forget it, don't lose it, and risk your life if you have to making sure you get it!
The links below have the procedures and grab bag contents so I won't go into that here except to say that it contains a device called a GPIRB. This device, when turned on will tell the authorities who we are and where we are and a rescue mission will begin in short order. The GPIRB is the all important key to survival (other than the raft itself of course).
As you can see, the grab bag is an all or nothing proposition. The good news is that in a dire situation where there could be panic, despair, and injury; you only have to remember one thing ...get the bag and don't lose it when getting into the liferaft!
Thursday, December 11th, 2008

OPEN LETTER

To President Lee Myung-bak, President of the Republic of Korea,

From INTERTANKO

We, the International Association of Independent Tanker Owners, have noted with considerable dismay the Second (Appeal) Decision of the Korean Maritime Safety Tribunal (KMST) and its findings of fault on the part of the two ship's officers of the "Hebei Spirit"; Captain Jasprit Chawla and Chief Officer, Syam Chetan.

As a responsible and accountable international shipping association, which represents over 80% of independent tanker owner interests worldwide, we first wish to offer all our sympathy to the people of Korea who were so badly affected by the spill of oil which resulted when the runaway Samsung crane barge struck the legitimately anchored tanker "Hebei Spirit".

We are aware that both Captain Chawla and Chief Officer Chetan were acquitted in the Daesan Court of the First Instance in June this year of all charges of criminal negligence. We are also aware that this Court Judgment is presently under appeal and understand that the Daesan Court of Appeal will be giving judgment as early as Wednesday 10 December.

We are further aware that the First (Inchon) KMST Decision has already been submitted in evidence in the Daesan Court of Appeal proceedings, and that it is likely that the Second (Appeal) KMST Decision will also be submitted in evidence in these proceedings. We are advised that Courts in Korea attach great weight to KMST Decisions. Noting this, and having considered in some detail the Second (Appeal) Decision of the KMST that is now before us as well as the First (Inchon) KMST Decision, we believe them both to be technically flawed and therefore that they draw unjust conclusions.

We wish also to express our concern that the KMST reports have not been produced in accordance with the internationally recognised IMO Interim Guidelines (MSC/Circ 1058) and IMO Code for the Investigation of Marine Casualties and Incidents. One of the cornerstones of this Code is the requirement to co-operate and consult with all interested parties before a final report is made.

We therefore urge the Daesan Court of Appeal to carefully consider all of the evidence, and in particular the judgment of the Daesan Court of First Instance, and not to rely solely on these KMST Decisions when reaching its decision. We also appeal to the Court to pay full respect to all its international treaty obligations to seafarers in rendering its decision. After it has made a careful and balanced review of all the evidence, we hope that the Court will reach a fair and just decision, not just in the interests of Captain Chawla and Chief Officer Chetan, but also as a demonstration to seafarers trading to the Republic of Korea that they can expect the highest standards of fair treatment and justice.

It would be highly regrettable if the outcome of these proceedings were to prove detrimental to Korea's international reputation and to its status as a tanker shipping nation, to its shipyards which rely on business from international tanker owners and to its refining and chemicals industry whose oil is delivered by the international tanker fleet.

With the greatest of respect,
INTERTANKO,
8th December 2008.
5 more days til Christmas!

Have one really great weekend!


RS